Biology student named best presenter at ecology conference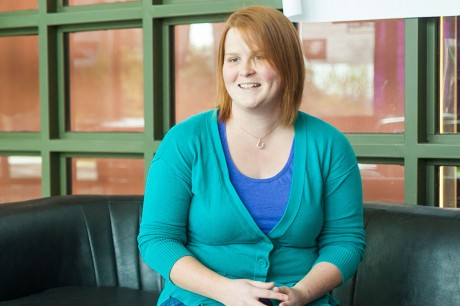 Last semester, from Nov. 2-4, senior Claire Afflerbach participated in the Texas Society for Ecological Restoration Conference to present research she has worked on with Kelly Lyons, associate professor of biology, Eddy Kwessi, assistant professor of math, and fellow students Katherine Banick, Kara Schoenemann, Erin Tansey and Kristen Schultz over the course of two summers. Afflerbach was excited to share the findings of the research after working with the greenhouse competition study for so long.
"So I've done two summers of research, starting in 2011, and it's a greenhouse competition study," Afflerbach said. "Basically, Dr. Lyons saw entering this conference and presenting at it as a great opportunity for me to give my first talk or formal presentation in my field outside of Trinity."
The research started with Lyons almost 20 years ago, while she was working toward her Ph.D. in ecology.
"My laboratory is dedicated to studying the competition between indigenous and invasive grass species. We focus primarily on warm season, perennial grasses," Lyons said. "The dynamics of these ecosystems and their plant biodiversity determines the wildlife that use these ecosystems as well as the amount of forage that is available for grazers such as cattle."
Afflerbach first came on to the project through the summer research program at Trinity, and she entered through the biomathematics perspective as part of the program for integrated research in biomathematics.
"There were projects already set up, and I basically got to choose which one I found the most interesting. I'm hoping to become a veterinarian, so I found the projects about macro-biology more interesting than micro subjects. Initially, I wasn't all that interested in plants, but now I'm much more interested," Afflerbach said.
Kwessi said that the reason this is biomathematics research instead of purely biological research has to do with the use of mathematical models to predict or explain results.
"Each year, the role of mathematics in the research became more apparent," Kwessi said. "My role was to help with the design of the experiment, including mathematical modeling and statistical analysis."
Lyons serves as vice president of the Texas Society for Ecological Research, which is how Afflerbach first heard about the conference. The society is a regional section of the International Society for Ecological Restoration, an organization dedicated to the environment.
"[It's goal is] reversing habitat degradation and restoring the earth's ecological balance for the benefits of humans and nature," according to Lyons.
Presenting research at a conference is a good experience for undergraduates, especially because it is much more common at the graduate level.
"Claire, like all of my research students, has been doing terrific research in my laboratory for several years. I encouraged her to attend the Texas Society for Ecological Restoration conference because she will be filing an honors thesis and I wanted to get us close to a draft of the thesis, as well as a manuscript for publication. Making presentations at meetings is really valuable for students and builds confidence""you have to bring your A-game when you give a talk," Lyons said.
Afflerbach and the other student researchers who worked on this project dedicated a good amount of time and effort to this research.
"Day to day, we were responsible for ourselves. Dr. Lyons advised us on data analysis, but a good percentage of the time, we were fairly independent with this project. We were expected to manage the experiment when she would travel for work at different points," Afflerbach said. This kind of research opportunity seems more graduate-level than undergraduate."
Presenting the research was nerve-wracking, but also especially gratifying for Afflerbach.
"We've put a lot of work into it, so it's rewarding to be able to present it. The other students and I would go out to the field at five in the morning, then we'd be back to the lab around three [in the afternoon], and then we'd stay in the greenhouse until 10 p.m. on some nights. It was just such a big experiment. There were around 360 pots of grass that we were responsible for, so it was just a huge undertaking," Afflerbach said. "It's also really fun going to conferences""we get to travel, dress up, talk to like-minded people""it's just really fun and exciting."
Leave a Comment