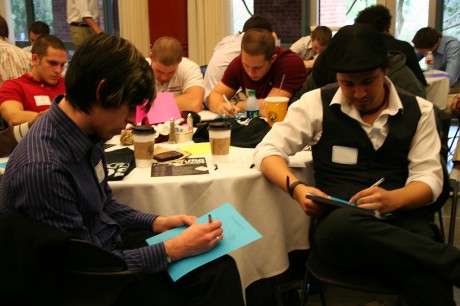 Campus and Community Involvement staff decided not to host the Men's Conference this year. Before his leave in August 2013, Raphael Moffett, former director of CCI, led the planning of the Men's Conference.
Due to the departure of Moffett and Ben Newhouse, former assistant director and director of CCI, the department found themselves down two staff members. Forced to prioritize their efforts, the office of Campus and Community Involvement decided not to hold the Men's Conference this year.
"For a February conference, we usually begin planning in August," said Jamie Thompson, director of CCI. "Since Raphael Moffett and Ben Newhouse both left unexpectedly in August, we had to decide how we could best serve students given our limited resources. We didn't think we could hold the Men's Conference – and do it well – this year."
Joe Moore, president of the Association of Student Representatives, understood why CCI did not host the conference this year.
"I think you need an overarching male figure in order to hold a men's conference," Moore said.
The Men's Conference addressed issues that men face in college. According to Diane Sapphire, associate vice president of information resources, men graduate at lower rates than women at Trinity. This trend reflects larger national trends for men in college.
"What are we supposed to do when we see that men leave college at higher rates, go to conduct board more, have lower GPAs, take fewer leadership roles, and are less involved than women?" said David Tuttle, vice president of academic affairs and dean of students. "Do we try to change it? Those are the questions addressed with the conference."
In order to fill the void of the Men's Conference, CCI set up informal discussions between faculty, staff and students about what men want in late January. Though students did not attend the discussions in large numbers, the discussions went well.
"Over the five separate discussion groups we held, less than 12 students attended," Tuttle said. "I personally invited about 20 guys, and four showed up to the discussion. But, the discussion we had was very enlightening."
CCI intended these discussions to lead to a decision about the future of the Men's Conference and how Trinity should address the issues men face in college. However, the discussions may have led to more questions than answers.
"It's clear from the research that men face issues in college," Thompson said. "But one of the responses we got from faculty, staff, and alumni, was that they figured it out in the end. Maybe the statistics are ok and men mature differently than women. If so, should we try to counteract that?"
Currently, CCI is unsure whether to host the Men's Conference in the coming years.  According to Tuttle, CCI will consider attendance  in deciding whether or not to continue hosting the Men's Conference.
"In previous years, we required new members of fraternities to attend and highly encouraged student athletes to go," Thompson said. "It is difficult to get men to attend the conference. But, in the informal discussions we had it sounded like the guys on campus who went thought it was valuable."
CCI will also consider feedback from the conference in making their decision.
"Since we required people to go to the conference, I'm okay with continuing the conference as long as the feedback isn't overly negative," Tuttle said. "It's an issue of, "˜how much do we want to bang our heads against the wall?' How much effort should we spend trying to save students from themselves?"
According to Moore, the conference addressed serious issues males face in college.
"I thought the conference last year was valuable, especially the guest speakers," Moore said. "They led great discussions about what it means to be a guy and about men being involved on campus."
CCI is in the process of evaluating the importance of the Men's Conference in their mission to serve students on campus. No decision has yet been made on the future of the conference.
"CCI has a strong desire to meet the needs of male students," Thompson said. "So, we want to continue doing that, but we're not sure the Men's Conference is the right way to do that."