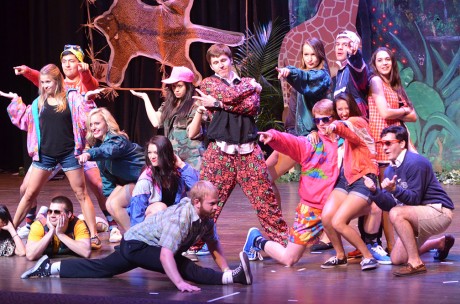 Junior Sarah Mueller has been fiddling around with music since she was nine, and she started writing songs when she was 13 or 14. Little did she know, her interest in music would propel her to  win Trinity's annual talent show, Spotlight, which was held at 7:30 p.m. April 6, in Laurie Auditorium. The theme of this year's Spotlight was Trinity's Talent Gone Wild, with masters of ceremonies James Jarrott and Shelby Seier adopting the persona of jungle tribe people visiting America for the first time.
"I think it is such a well-attended event, and that is something extremely hard to do at Trinity. We try so hard to get students to attend events at Trinity, but nothing fills the seats with such a diverse group of students like Spotlight. Plus, there is nothing negative about the event""just fun," Jarrott said.
Because there were so many talented contestants performing, Mueller had no idea that she was even in the running to be chosen as the winner of the small group category, but she was happily surprised with the results.
"There were a lot of great acts and I really had no idea who would win, but it was certainly a happy surprise," Mueller said.
Sophomore Kimberly Taylor named Mueller as her favorite act of the night.
"Sarah Mueller was my favorite act by far. I was so impressed by her performance and didn't realize she was so talented at singing and songwriting," Taylor said.
Junior Monica Clifford was also surprised at Mueller's musical talent and how professional her performance sounded.
"Sarah Mueller blew me away. Holy crap, does that girl have singing chops!  And her song was original. It sounded like something you could totally hear on the radio," Clifford said.
Mueller said she wasn't originally planning on entering Spotlight, but her girlfriend encouraged her to enter when the email was sent out. For her performance, Mueller sang an original song called "Lucky Charms," which she said she wrote about five years ago in high school. Although she cannot remember exactly what inspired her to write the song, she believes it describes her personality well.
"I think the song speaks most deeply to the childlike core inside me that just wants silly and sugary things always," Mueller said.
Sarah Topp, director of debate and assistant professor of human communication, was one of the three judges for the night. According to Topp, the judges enjoyed many of the same acts, but Mueller's performance really stood out for its originality.
"When all of the performances had finished, we each identified our top acts. Not surprisingly, we had many overlapping favorites. All of us were looking for excellence in the acts, which, to me, meant demonstrating that the performers were exceptional at their chosen talent and enjoying themselves, as well as showing creativity and the ability to engage and excite the audience," Topp said. "All of the judges were extremely impressed by Sarah Mueller's performance of her original song, "˜Lucky Charms.' She really embodied what we were looking for in the show."
Andrew Hoing, residential life coordinator, was also a judge for the event. As a 2011 Trinity graduate, Hoing said he remembers watching Spotlight as a student, so he could not pass up the opportunity to judge the event, despite the pressure that came with the job. He said it was difficult to choose the winners because several other acts were just as qualified to win, but Mueller's creativity with the presentation of her own original song ultimately won him over.
"It was really difficult [to pick the winners]. There were several acts that were probably worthy of winning, but ultimately I feel good about the decisions we made. In the case of Sarah Mueller, not only was she incredibly talented and an amazing performer, but she also wrote her own song. That definitely impressed us," Hoing said.
Sigma Theta Tau and Pi Kappa Alpha took home the prize for the large group category for their dance collaboration. Hoing said the large group winner was even more difficult to choose, but the judges finally decided on Sigma Theta Tau and Pi Kappa Alpha for the reaction their performance got from the audience.
"The large group winner was a little more difficult to determine. Ultimately, we felt the Pikes and Sigmas did an awesome job choreographing such a large group of people, and they really won over the crowd," Hoing said.
Clifford appreciated the amount of effort Sigma Theta Tau and Pi Kappa Alpha put into their performance, and she believed their song choices suited the act very well.
"I was also very impressed by the Sigmas and Pikes. They clearly put in a lot of effort and came up with such a great blend of popular songs," Clifford said.
Taylor was glad she was not given the responsibility of judging the performances because she was impressed by so many of the acts and would have found it hard to choose just two of them as the winners.
"There were so many incredible and entertaining performances, so I can't imagine how difficult it was to pick winners. The winners were definitely deserving""as you could see how dedicated they were to their acts""but I also really enjoyed the performances that Jun Kim, The Daytrippers and Ethan Valdes and Eva Patterson gave," Taylor said.
Clifford also enjoyed The Daytrippers' performance, and she designated them as her favorite act of the night.
"They took a popular song and revamped it, making it their own and in the process giving it new life.  Plus, as a Bond fan, I may or may not have peed my pants in excitement," Clifford said.
If Clifford could have picked one more winner, she said she would have gone with the Acabellas.
"The Acabellas were also incredible. Seriously, they probably put in the most work of anyone. They included so many of Beyonce's hits""I'm pretty sure they nailed every one, actually. I think they should've at least placed or something. Everything about their performance was spot-on, from the costumes to the heels, to the dancing, to the music itself," Clifford said.
Topp is glad she was presented with the chance to judge Spotlight because it allowed her to see a different side of the students she teaches.
"Judging the Spotlight was really fun. It was great seeing many of the different talents Trinity students have. As a professor, I get to know students in the classroom, and this gave me the chance to see a different side of my students. I am glad I got the opportunity to judge," Topp said.
As one of the MCs, Seier enjoyed several of the performances, and she really liked how easy the contestants were to work with because it made her job a lot simpler.
"The vocal dynamics in Skyfall were really stellar. Claire Tajonera is just darling and such a joy to watch and listen to, so I'm really fond of her performances because her personality totally comes through, which I think is very important. I'm also a huge fan of Sarah Mueller. Not only is she a great singer and clever lyricist, she is also humble. When working in a student-led show with a multitude of acts, the people that are easy to work with are most often my favorite," Seier said.
Jarrott thought all of the performances displayed great talent, but he wanted to especially recognize the hard work of Laura Kalb and the Student Programming Board.
"Laura Kalb is the unspoken hero and winner of the whole event. Without her leadership, along with the rest of SPB, this event would not happen, and that would just be depressing," Jarrott said.
Taylor liked the atmosphere she felt in the audience, and she said environments like this make her glad to be a Trinity student.
"There were so many attendees, and you could really feel the support and excitement from the rest of the audience," Taylor said. "Being part of such a supportive audience made me proud to be a part of this campus."