"Kunstkammer" senior art gallery opens in Neidorff Art Gallery Thursday, April 25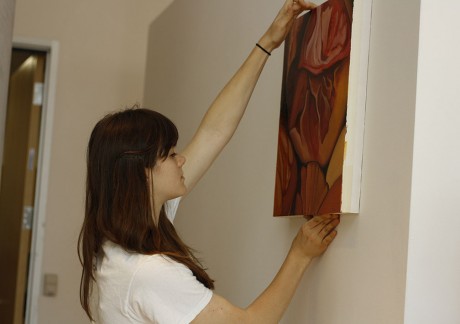 As the end of the semester draws to a close, many graduating seniors are getting ready for the spring 2013 undergraduate commencement ceremony. However, 13 senior art majors have other things on their mind; they are busy making final preparations for the 2013 senior art show. "Kunstkammer," which means "art chamber" in German, will be opening with a reception from 5 to 7 p.m. Thursday, April 25, in the Michael and Noémi Neidorff Art Gallery. "Kunstkammer" will showcase artwork created by the senior art majors.
The senior art show is part of the art major capstone the seniors have been working on this semester. Not only has each senior art major created art for the exhibition, they also each have a role in planning the event. Trish Simonite, associate professor of art and art history, is guiding the participating seniors through their capstone project. However, the senior art majors get to manage all aspects of the show and are excited about the opportunity.
"This will be our first time working as a group. We're working on everything having to do with the show; we do all the planning. So, not only is it a chance to show off our artwork, but it's also a chance to show off our organizational skills," said John Dean Domingue, senior art major.
Through the production of "Kunstkammer," the participating seniors are getting a glimpse of what being an artist in the real world would be like.
"A lot of the senior art majors plan to be full-time artists in the future, so this is something that, hopefully, we get to do a lot more in the future as individuals," said Jennifer Lewis, senior art major.
"Kunstkammer" is important to the graduating art majors, as it is represents the culmination of their collegiate careers at Trinity. Moreover, the art exhibit is an opportunity for the Trinity community to see the result of their efforts.
"It's very exciting and it's a chance for them to shine," Simonite said.
Those who visit the exhibit will experience exactly what Kunstkammer promises to offer, a room full of art. The seniors utilize a variety of mediums for their art, such as clay, metal and photography.
"It would be so cool to see a lot of people come"¦we really do have an eclectic mix of people and types of art, and I feel like there's something for everyone," Lewis said.
For those who are inspired by or interested in art, "Kunstkammer" will be a chance to see what participation in the arts at Trinity can mean.
"It's a chance for people to see what the students at the university are capable of, and I think it gives them hope""to people who want to learn more about art or to do art""and they can see that after a short time at Trinity you can make work of this caliber," Domingue said.
Leave a Comment