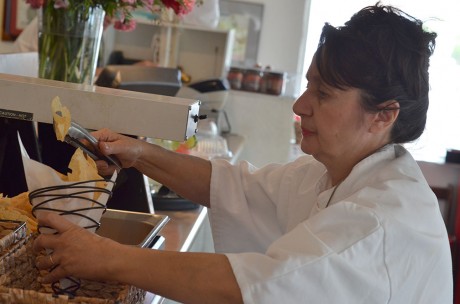 Helen Velesiotis, owner of the well-known San Antonio breakfast and lunch hot spot, Taco Taco Café, has long considered Trinity a part of her family, and in fall of 2013, Trinity University aims to make the petite, bright-eyed Greek woman part of ours.
At the permission of ARAMARK, Velesiotis and her team that manages the award-winning, nationally recognized restaurant will take over the area now utilized by Grilleworks in the Coates University Center Commons Dining Hall.
According to David Tuttle, associate vice president of student affairs and dean of students, renovations are scheduled for this summer and the Trinity community should have access to the Tex-Mex cuisine when school starts in August. All of the original Taco Taco recipes, methods and the delivery will be maintained in serving the trademark dishes to the on-campus community.
Miguel Ardid, director of dining services, explained that the addition of Taco Taco is part of a bigger vision that the university has for dining services.
"In 2010, President Ahlburg came along and said he felt that it would be a good idea to do a market view, an analysis of the dining options we have on campus and to look at all of the different areas," Ardid said.
The analysis resulted in a five-year dining plan that stipulated the addition of Einstein Bros Bagels and Provisions On Demand, as well as the renovation of Mabee Dining Hall and the Skyline Dining Room. Now in its third year, attention is being paid to a full renovation of the Commons (which will cost approximately $50,000 and should be completed in 2014), as well as the creation of dining options in the Chapman Center and the Center for Sciences and Innovation, and the renovation of Java City in the Coates Library.
According to Tuttle and Ardid, Taco Taco was suggested as an alternative to the ARAMARK brand, Tortilla Fresca, which was previously stationed in Mabee prior to the renovation. However, they were unsure if Aramark would allow a brand that was not their own to come to campus.
"In our world of ARAMARK, it's really kind of the exception""what we're doing, because we do have a pretty good portfolio of [ARAMARK] brands to choose from, but in some cases, like this one, they'll make an exception," Ardid said. "We're definitely the exception, not the norm."
Tuttle says this exception speaks to ARAMARK's desire to cater to the unique Trinity community.
"Sometimes students are critical of dining services, but they made this happen and they're really acting in good faith to try and have one of the top dining facilities in the nation," Tuttle said. "We're not like other campuses where we have a Pizza Hut and a Chick-fil-A. [ARAMARK] has really tried to tailor our campus a little more, and it shows they understand the nature of the institution."
Once Tuttle and Ardid received the go-ahead from ARAMARK, they collaborated to decide what restaurant to bring to campus.
"[Miguel and Cory, the district manager, and myself] looked at a couple of possibilities, including Chipotle and Taco Cabana, but ultimately decided that they were not a good fit, either because their menu was too restrictive or the licensing costs that come with a franchise wouldn't work with our business model," Tuttle said.
"That's where Taco Taco came in. It's local, unique, and we're the first college campus to have them. I knew it was popular among students and we already have a relationship with them from when they received the Student Affairs sTUdent Friendly Award."
The next step was to contact Velesiotis to see if she was interested.
"[David] came to the restaurant one morning," said Velesiotis, recounting how Tuttle approached her. "He said, "˜the students, faculty and everybody loves you,' and I didn't even let him finish. I just started jumping up and down and crying. I was very excited."
Following the initial agreement, university administrators, staff and Velesiotis set to work looking at spaces and drawing up a contract.
"Right now it's a one year contract," said Ardid of the contract, which was finalized Wednesday. "It's obviously renewable, but we wanted to keep it flexible so that if it ends up not being what either party anticipated, we have that as a way to get out of the agreement, but we're really looking forward to the project and we think it will be really great. With Mexican food on campus, it's hard to go wrong."
Tuttle and Ardid are also hoping that Taco Taco will provide a late night option for students on campus.
"One of the key things for me is to get the Commons back open at night," Tuttle said. "I want to move the mailboxes to the Tigers' Den and have a nicer social atmosphere in the Coates Center. If it's up to me, we'll start out having it open until 2 a.m. and conceptually, if students want to walk up the hill for tacos at midnight, I feel like that would be a really great thing to offer."
However, both Tuttle and Ardid recognized hours will be dependent on student interest.
"We can't have everything open all of the time, if it's not being used, so we'll probably keep it open a lot in the beginning and then see what the traffic patterns dictate and then set the hours accordingly."
And what should Trinity expect from Velesiotis?
"It's going to be my second home next door," said Velesitotis, when asked if she will be on-campus often to oversee the operation. "I will be there every day and I'm looking forward to socializing with everyone. I want to thank everybody at Trinity and thank the faculty, students and the staff for supporting us all these years. I want to thank Mr. David, Mr. Cory, Mr. Miguel and all the people from Aramark too for being so good to us. I'm very excited and I hope that we have a good, long relationship and everybody loves us like we love them."