Trinity students participate in Silver and Black Give Back Team Up Challenge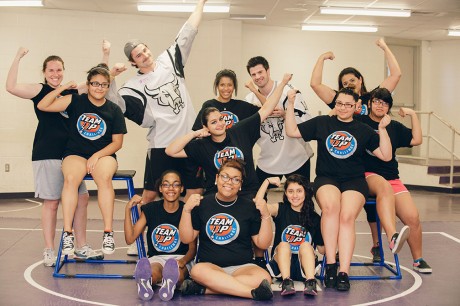 Through Silver & Black Give Back's Team Up Challenge Program, the educational life cycle comes full circle. College students work in conjunction with corporate supporters and non-profit partners to help students from kindergarten through 12th grade make a lasting impact on the San Antonio community.
"In September, 20 classes, clubs or teams are awarded $2,500 to begin their projects in one of five categories: Arts & Culture, Education, Environment, Health & Wellness or Uniformed Services. We work throughout the year with our players, mascots and volunteers to help the students accomplish their goals. In March we launch two weeks of online voting where the community can get involved by voting for their favorite project. In April teams come to the AT&T Center to present their projects to our review committee," said Hollis MacDonald, community responsibility coordinator for Spurs Sports & Entertainment, in an email.
The Team Up Challenge Scholars portion of the program gives college students the opportunity to serve as mentors to younger students.
"The Team Up Challenge Scholars, presented by AT&T, is a college mentor program. Scholars are assigned to each group to assist the students in planning and executing their projects. Scholars also help Silver & Black Give Back stay in touch with their groups, informing us of important dates and attending events," MacDonald said.
Team Up Challenge Scholars have a few responsibilities they are expected to keep up with while participating in the program, and constant reflection of their experiences is encouraged as a component of the program.
"Scholars visit their teams at least once a month and also participate in reflection groups with Silver & Black Give Back. They are expected to host their team on campus for a college visit and complete reflection essays on their experiences," MacDonald said.
Edwin Blanton, coordinator for community service and engagement and the campus contact for the Team Up Challenge Scholars Program, said that Silver & Black Give Back approached Trinity with information about the Team Up Challenge Scholars program, and it made logical sense for Trinity to participate based on its commitment to the community.
"This program really tries to look at civic engagement. In the short time this program has been around and funded by Silver & Black Give Back, they have done things, and you can see all of the stuff they've already done on their website. Hopefully, it's also inspired the students to do more projects in their community," Blanton said.
Senior Sal Perdomo is one of the Trinity students involved with the Team Up Challenge Scholars Program.
"I think it's really neat to have that type of community development aspect and be able to work with the community just directly in the schools, so it seemed like something that was right up my alley," Perdomo said.
In the time Perdomo has worked with the program, he feels like he has grown as a mentor to the kids he volunteers with.
"I was assigned first graders, and the kids probably don't understand who I am, but it's just really cool to kind of see the impact you're making on the community. As a mentor, I've been able to kind of learn how to relate to kids and be able to work with kids and help them achieve their goals," Perdomo said.
One of the major principles of the Team Up Challenge Program is service-learning. According to Blanton, children are more likely to respond to what they are learning inside the classroom if they can actively apply that information outside of school.
"Service-learning takes some elements from the classroom course content, and then the community component implements active participation and learning outside the classroom. Service-learning not only benefits students, but also the greater community," Blanton said.
Many professional sports players often participate in Team Up Challenge projects. After finding initiatives that interest them, players provide assistance and encouragement to the students involved with the program.
"All of our teams "" Spurs, Rampage and Silver Stars "" participate in the Team Up Challenge. Players will assist students in their projects, often on work days. They help students garden, film PSAs about anti-bullying, pack backpacks full of food, read to students, etc. Whatever the students are doing, our players find what interests them about projects and find a way to help," MacDonald said.
According to Blanton, the application deadline for the Team Up Scholars Challenge Program for the upcoming school year has been extended to Monday, April 22. MacDonald said that there is no limit on how many students can apply, but only 40 students will be selected each year after an interview process with the entire Silver & Black Give Back staff.
Perdomo encourages his fellow Trinity students to think about volunteering their time with the program because he thinks it is a great way to burst the Trinity bubble and help out the San Antonio community.
"They should participate to get out of the Trinity bubble. I think that Trinity students have a tendency to be confined to this area, and Trinity students are very comfortable around Trinity. They don't want to leave, so I think it's a great way to kind of make a name for Trinity and get out and work in the community," Perdomo said.
MacDonald believes that the Team Up Challenge Program promotes care and support to help students achieve their ambitions in life.
"The Team Up Challenge demonstrates that it doesn't matter how old you are "" you can make a difference. This program empowers students and allows them to realize that their actions and their dreams can come true," MacDonald said. "More importantly, it shows that we "" Silver & Black Give Back, our franchises, players, coaches and staff "" care about what is important to them, and we want to help them accomplish their goals."
Leave a Comment