Student band, The Daytrippers, host third semi-annual Rooftopalooza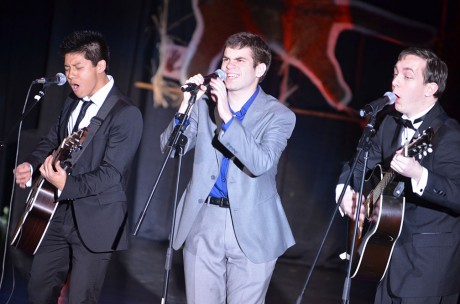 At 9:07 p.m. Friday, April 26, on the McLean roof, various musical acts will be performing for Trinity's third semi-annual Rooftopalooza. This concert brings together student musicians from all around campus to display their own work for the school's population.  There is no price of admission and there will be refreshments.
This event was organized by the band The Daytrippers, which consists of students Victor Vo, Mason Walker and Reagan Wilkins.  Other acts that will be performing include Heongjun Kim and Arnold Yang, Will Parker, Cody Wolfe and Sarah Mueller.  All of the musicians are students and have different styles and genres.
"There's a lot of variety within that category," Walker said. "You've got Cody Wolfe, for example, who tends to do more country-tinged stuff, and then you've got Sarah Mueller, who's so phenomenal at the singer-songwriter style."
The show is a chance for many students to show off their talents in a setting that they normally might not be able to.  Spectators will have the opportunity to be exposed to various campus musicians of which they were previously not aware.
"People should expect some of our very own talented fellow students," Vo said. "We have more amazing and interesting people on campus than we think, and it's a privilege to have them come together!"
One of the main attractions of the show is the environment, which is meant to entice the average college student into taking a break from their studies and to spend some time calming down.
"The show is really laid back, sort of coffee shop-esque," Wilkins said. "The show takes place on McLean roof, with the skyline in the background and just a few lamps to light the area."
The concert comes right before finals which is the ideal time to blow off stress, according to Walker.
"[It is] very loose and informal," Walker said. "Singing along and spontaneous dancing are highly encouraged. People have lots of stress to relieve prior to finals, and we want Rooftopalooza to be a fun, safe, mind-blowingly fantastic way to do just that."
The Daytrippers, who organized the show, were in charge of everything from technology-related issues to finding and choosing the acts that would perform.
"The show is quite challenging to organize, especially since The Daytrippers are also students," Vo said.  "It's a little tough to try and organize our showcased artists, time and location, setup and other performance-related stuff on top of our own personal priorities."
Those who have attended past Rooftopaloozas may notice a few differences this year, as far as which artists were selected to play.
"This time around we wanted to really break outside of our normal "˜canopy' of acts. We wanted to find artists that hadn't performed Rooftopalooza before, or who maybe hadn't even heard of it before. And we succeeded," said Wilkins.
As always, the preparation did have its difficulties.
"It was a bit of a challenge just because we don't have constant contact with all of the performers this time around like we have in the past," said Wilkins. "So at times we didn't know if we were going to have everybody we wanted. But everything turned out perfectly, despite the setbacks."
The show will be at 9:07 p.m. Friday, April 26, on the McLean roof. Admission is free.
Leave a Comment