Ambassadors host T.A.G. week to thank donors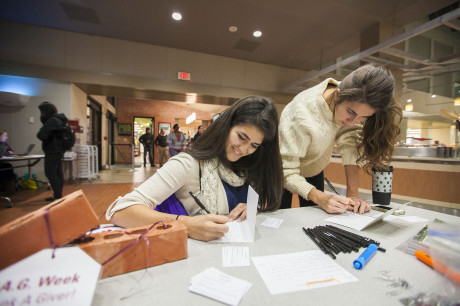 This week, Trinity University's campus has looked slightly different, and this time it's not due to the construction.
This week is Trinity's T.A.G. week, which stands for "Thank A Giver," hosted by the Trinity Ambassadors. Tags are put on various features and buildings around campus to urge students to thank the donors that give to the university.
"This week is dedicated to making students aware of how much donors contribute to the university and how important they are because they make our education possible through buildings they have donated," said Gaby Serrano, a senior and Trinity Ambassador. "All the buildings that have the names, like Coates and Dicke Smith, were made possible by donors. In addition to buildings, if you really look into it, every student here is on some scholarship, somewhere around 80 percent of students because all of our tuition is somehow reduced by donor giving. Donors even have the option of saying, "˜I want my donation to go that specific thing' or "˜I want my donation to go to a specific department.'"
This week, the Ambassadors are not only showing what donors give but are also giving the students an opportunity to show their appreciation and give back to the donors.
"This week people had opportunities to write letters to donors and received a free shirt or a deck of playing cards," said senior and Trinity Ambassador Sara Hartmann. "The letters are addressed to specific people, so that way you can send a letter to a donor rather than just giving them a generic card."
So far, students have done an excellent job of showing their appreciation through this annual event.
"We had 175 donors and by Wednesday every donor had a letter written to them, so it was a success," said Lauren Turley, a senior and Trinity Ambassador. "T.A.G. week is a really cool week because it gives us the opportunity to thank those who selflessly give to Trinity. T.A.G. week also raises the awareness of philanthropy as a student, as well as opportunities to give after graduation."
To make the event even more exciting, Ambassadors are hiding prizes around campus for students to discover.
"We are hiding some golden tickets around campus, and when someone finds one and brings it to Coates, they will get a wonderful prize," Turley said. "There will be one ticket hidden on Thursday and one ticket hidden on Friday."
In addition to T.A.G. week, the Trinity Ambassadors host and support multiple other events on campus.
"The mission of the Trinity Ambassadors is to foster and make connections between the alumni and students""our theme is making connections," Hartmann said. "We host Senior Happy Hour and Super Nacho Hour, but Ambassadors is also responsible for hosting all the senior graduating events, like the senior tower climb, the Last Great Reception and the Casino Party."
To learn more about T.A.G. week or Trinity Student Ambassadors, visit their website at www.trinity.edu/student_org/ambassadors.
Leave a Comment