MLK Fair-Trade Shirts are $10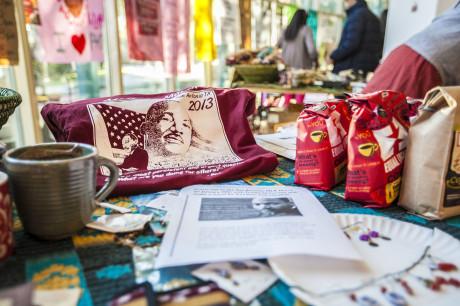 Angela Chen, a junior, led the effort this year for fair-trade shirts for the Martin Luther King, Jr., march on Jan. 20. Last year, the effort was led by Hannah Monroe, who graduated in the spring. There will be two different shirts available for the MLK march. A fair-trade shirt will be $10 and another that will be free.
Fair trade is an organized social movement that aims to help producers in developing countries to make better trading conditions and promote sustainability.
Providing fair-trade shirts for the MLK march was an independent student-led effort last year. To make up for the cost Campus and Community Involvement (CCI) could not cover, Monroe asked ASR to fund the extra $1,200 for the shirts. They were given partial funding of $1,000. CCI was able to subsidize the rest by not spending in other areas.
"We were able to provide fair-trade shirts last year for everyone who went to the march. Angela is taking the lead on it this year. This year, instead of going to ask ASR for the money, we are allowing people to really truly support fair trade by purchasing a shirt," said Soisouda Smith, coordinator for diversity and intercultural relations.
The fair-trade shirts are specifically connected to the morals and values of the MLK march.
"The MLK fair-trade shirts in itself stand for equality and freedom. By purchasing a fair-trade shirt, you are giving producers in a different country a fair wage," Chen said.
According to Chen, the shirts help promote equality for those who make the shirts by providing a livable wage.
"Making that choice to have a free trade t-shirt versus having a regular one is making that choice to say "I want equality for someone," Chen said.
Smith stated that the fair-trade MLK shirts were  independently  pursued by students. In order for fair -trade MLK shirts to continue as a tradition, students need to come forward and demand it.
The fair-trade shirts cost $15 but CCI pays for $5 of the cost.
"The price just reflects the fair trade. That is why it's more expensive. The university is already going to sponsor the $5 the additional $10 is what you have to pay to make your shirt fair trade," Chen said.
The fair-trade shirts will be sold from Dec. 2-6 in Coates. The non-fair-trade shirts will be free for the first 250 people who show up for the march on Jan. 20.
Leave a Comment