Sexual Diversity Alliance holds Transgender Day of Remembrance tomorrow at Holt Center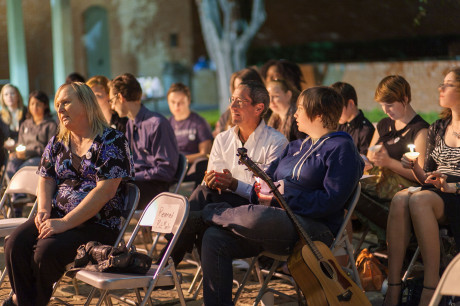 To honor victims of hate and discrimination due to perceived or actual gender identity or gender expression, the Sexual Diversity Alliance will be holding a Transgender Day of Remembrance at 5:30 p.m. tomorrow, Nov. 23, at the Holt Center.
This event is meant to honor victims, but also to bring to light an issue that affects a large and growing part of the population.
"[Transgender people] are very present. Even though we think it's so distant and foreign, there's more than you think," said sophomore Sydney Wright, president of the Sexual Diversity Alliance.
Although this is a very prevalent issue, the members of the Sexual Diversity Alliance believe Trinity would benefit from learning more about the transgender community and the problems they face.
"A lot of people don't really know much about transgender people. They do make up a very small percentage of the population, but I know multiple transgender students here at Trinity, and most students couldn't tell you what transgender is or anything about it," said senior Christopher Unger, the treasurer of the Sexual Diversity Alliance.
The Transgender Day of Remembrance is an international event that occurred this past Wednesday, Nov. 20. Several organizations in Texas took part in the event with a candlelight vigil, including the Metropolitan Community Church of San Antonio.
Another goal for the Transgender Day of Remembrance is to humanize the issue of violence against this part of the community.
"Most people don't know anyone that is transgender even though we have a transgender population at Trinity, so we want this to put a face to the issues," Wright said.
The event will include a candlelight vigil, during which Wright will read an official list of the people who have been killed in the past year due to their actual or perceived gender identity or gender expression.
Along with the members of the Sexual Diversity Alliance, members of the transgender community of San Antonio will be coming to speak and share their experiences. The night will also include musical performances by the band Othello and David Spener of the sociology and anthropology department.
Organizations from all over Texas have been invited to participate in Trinity's own Transgender Day of Remembrance. These include UTSA's LGBT group, Get Equal Texas, the San Antonio Gender Association, Transgender Education Network of Texas and more.
The Sexual Diversity Alliance has also been in Coates this past week handing out flyers and "No Trans Hate" stickers to promote the Transgender Day of Remembrance. The club hopes that promoting this event will also shed light on the violence that transgender people often face.
Darcie Marquardt, a sophomore member of the Sexual Diversity Alliance, helped run this table in Coates this past week.
"I think it is good to spread awareness so that people know something is going on. The point of the event is to remember the pain of what people have gone through, but also so that people know that this is happening and that they can change it," Marquardt said.
Leave a Comment