Campus community ready to spend Christmas on Oakmont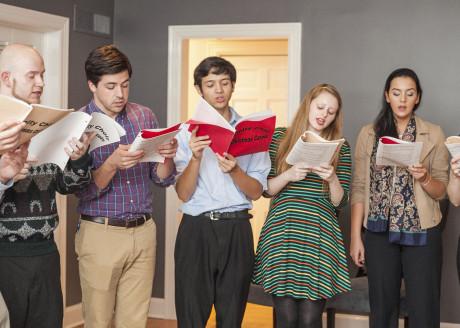 One of the most popular traditions at Trinity is Christmas on Oakmont. Some of the Trinity faculty and staff located on Oakmont will open their doors this Sunday, Dec. 8, immediately after Vespers and invite in members of the Trinity community to celebrate the holidays together.
Each of the houses participating in the event will serve a different snack or holiday treat such as hot chocolate, Christmas cookies, coffee or tamales.
The Trinity University Chamber Singers will also be traveling from house to house and will perform a few classic holiday songs.
"I really love carols, so I'm just excited to be with my friends and sing at each of the houses," said sophomore Lydia Benedict, a leader of the Choir Advisory Team and member of the Chamber Singers.
This Trinity tradition is known for how much enjoyment it brings to everyone involved.
"It is so cheesy, but I really like how happy students are to be participating. People are so friendly, smiling and polite. It makes me feel really happy about being at Trinity," said David Tuttle, associate vice president of student affairs and dean of students, in an email.
Sara Hartman, a senior student ambassador, is excited to be involved with Christmas on Oakmont by helping out in the participating homes, greeting the guests and serving food.
"I love eating all the delicious treats and hanging out with the president. It's the best way to get into the holiday spirit on campus," Hartman said.
Last year in the All Things Trinity Tournament, Christmas on Oakmont won first place as the most popular aspect of Trinity. The tournament included other popular traditions, organizations, people and places associated with Trinity, but Christmas on Oakmont dominated them all.
The popularity of this tradition is definitely evident in the high numbers of students who attend Christmas on Oakmont.
"I think the turnout is due to the festivity of the season, the fact that students have heard about this as a storied Trinity tradition, and I suppose the free food helps," Tuttle said.
The event is also appreciated for the hospitality and friendliness shown by everyone involved.
"I think it has to do with the faculty wanting to reach out to students and welcoming them into their homes. I think students really appreciate that. You don't get that at every school," Benedict said.
The number of houses participating in the event has increased recently as some academic departments have been relocated to Oakmont due to construction. Last year, the biology department, the psychology department and the engineering department all took part in the holiday celebration.
The annual Christmas Vespers worship service will be held at 6 p.m. in the Trinity Chapel with prelude music beginning at 5:30 p.m., and the houses on Oakmont will open their doors directly after the service from 7 p.m. to 9 p.m.
Leave a Comment