Loon-E Crew honors vision of group's founder with show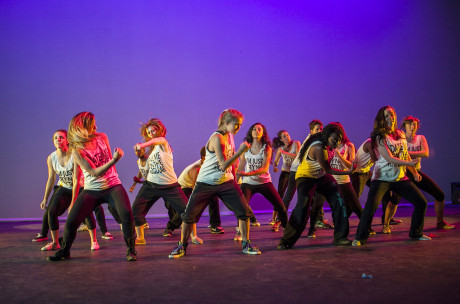 Need a good break from studying for finals? Come out and watch the Loon-E Crew's annual free dance show at 8 p.m. on Monday, Dec. 9, in Laurie Auditorium.
The Loon-E Crew Experience will include eight different dances choreographed and performed by the members of the crew. Dances will also be performed by the Prowlers, the CoCo Bros and the Korean Student Association.
According to senior Peter Dancy, a former Loon-E Crew co-captain, the show is a tribute to Maduka Ogba, the founder of Loon-E Crew.
"The show is a celebration of what the Crew's original founder, Maduka Ogba, wanted to achieve with it, as well as a showcase for all of the work and effort that has been put in by Loon-E Crew and the other dance groups involved," Dancy said.
The members of Loon-E Crew have been working on some of these dances since the beginning of the semester. It takes a surprising amount of time and hard work to put together just one dance routine.
"For me, it takes a long time," said Ronja Behrends, a sophomore and co-captain of Loon-E Crew. "I'd say about two to three hours per minute of good diligent choreography."
This process takes a long time because there are so many different things to consider when putting together a dance.
"You have to come up with choreography the dancers can learn, that will look good in a large group, that's different, but looks good. It's just difficult to do in general," said senior Krista Campolo, the captain of Loon-E Crew. "Other important factors include formations, stage lighting and mixing music."
Although choreographing these dances can be very difficult and time-consuming, it is also very rewarding.
"You get to represent yourself. You get to envision something you want to do, and people will be able to recreate and amplify that expression," said junior Po Lin, a member of Loon-E Crew and one of the choreographers for the upcoming show.
Any of the members of Loon-E Crew can choose their own music, put together a dance and teach it to the rest of the crew.
"We like to get a lot of the members choreographing so we get diverse choreography," Campolo said. "I commend all the choreographers who have stepped up this year."
A lot of the inspiration for a dance can come from hearing catchy, interesting music with a good beat.
"I like to pick songs that are hard-hitting but also ones people can recognize. People like songs that are familiar, that they dance to on a regular basis, but some of the songs might not be recognizable," Campolo said.
Another form of inspiration behind the dances has come from YouTube videos featuring popular dancers such as Ian Eastwood, Brian Puspos and SoReal Cru-a dance crew made up of middle-school-aged children.
The members of Loon-E Crew are excited to see how the audience will react to the upcoming show.
"People who aren't as into dance as we are don't really expose themselves to that type of media. To me, it's really exciting that it's an eye-opener for them and they get a peek into our world," Lin said.
The students are ready to show off all of the hard work they've put in over the course of the semester in preparation for this show.
"It's a great study break, and it's just nice for people to come out and see what we've been working on for the entire semester," Behrends said.
Leave a Comment