Coates Library will hold First Annual Book Collecting Contest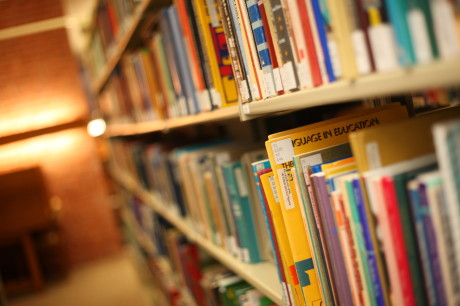 Calling all book collectors! Coates Library is hosting its First Annual Undergraduate Book Collecting Contest.
Participants must own a collection of physical books "" ebooks will not be considered "" and submit a short essay, bibliography and photograph of the collection. The collection does not have to be large (minimum 20 books), but it does need to be unified by some common theme "" an author, topic, genre or some other criterion.
This contest was created by library faculty members Amy Roberson and Megan Toups.
"Megan and I decided to create a Trinity contest after reading about contests at other schools," Roberson said.
Entries must be submitted to Megan Toups, [email protected], by Jan. 31, and must include the essay, bibliography and photograph to be considered.
When writing the essay, keep in mind that a word count of 1000-1500 is required, not including the bibliography. The essay should address the questions of what ties these books together, why you started collecting, how you would like to expand your collection and what you most enjoy about collecting books.
In addition, the required bibliography should be a MLA-formatted list of the books in your collection.
The grand prize winner will receive $100 and be eligible to participate in the National Collegiate Book Collecting Contest (which has a grand prize of $2500).
The two runners-up will receive $75.
Awards will be given at an event in March. Winners will be asked to give a short five-minute talk and display five books from their collection. Free cake and drinks will be provided.
"I must confess that I had never heard of competitive college book-collecting until library faculty members Amy Roberson and Megan Toups proposed this idea. Then, I learned that several of my colleagues had not only participated in such events, they were champions in years past," said Diane Graves, university librarian.
Graves was not aware that Trinity students were such avid book collectors too.
"I also learned that we already have students on campus who love to collect books "" on a particular topic, by a specific author or by some other criterion. I agreed with Roberson and Toups," Graves said. "Why not let those students show off their collections and share their interest with the rest of us?"
It is important to recognize that book collecting serves many purposes. It develops deep knowledge of a special interest, promotes life-long learning and vocational interests, serves as a conversation starter, and features an affordable art that one can own and share with others.
"Students and faculty alike have expressed interest in physical books even as they also embrace ebooks, online journals, and other forms of communication. This contest celebrates the versatile print book and the many roles "" educational, artistic, and personal "" that it plays in people's lives," Toups said.
Leave a Comment