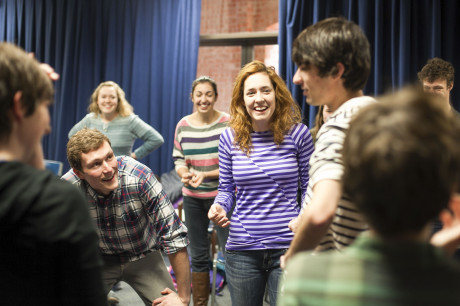 Upon seeing an organization named First Time Offenders, the initial response may be concern or just pure curiosity. This is likely the exact response that the improvisation group on campus was hoping to get, but do not be misled by the name. The group spends time together practicing and learning improvisational skills  to be used in the performances they put on for Trinity. The main goal of the group is to be comedic for the people that come and watch as well as for themselves.
Many members of the group say they form lots of memories and deep friendships. Junior Shannon Perry reflected on some of her favorites memories, including her favorite sketch.
"As far as my funniest sketch,  during one of our meetings, we were playing a game called "Should've Said." The performers create a scene, and when someone from the audience calls out "Should've Said!," the performer who just spoke has to change whatever they just said into something new. My scene involved trying to move a donkey off of a path, and the audience members kept making my partner and I figure out new ways to move the donkey. It escalated from pushing the donkey to tossing the donkey, rolling the donkey and putting the donkey on a skateboard to skate away. It was a great instance of my partner and I thinking quickly and coordinating our actions to make it seem as if we were actually dealing with a real donkey."
The group was originally formed as a subgroup of Trinity University Players in 2007 but now have broken off and are their own official group. Members over the years have had different experiences with the group, but many agree that the community was very important.
"Joining FTO has been an incredible experience. Everyone is very accepting and I have made some very good friends through the group," said first year Jacob Pursell.
The community among the group is highly stressed and very important to the performances. The group getting along does not just make it more fun, it makes the whole experience easier.  said sophomore Eliza Grady.
"The chemistry within the group is essential to the performance. It makes it easier to read where someone is going and makes the performance more smooth."
Joining the group is not a process that requires being a world-class improviser as soon as one joins. The group is okay with working with people and using meetings to practice, improve and hone skills.
"I dabbled in improv in high school, but never considered continuing in college. However, in the fall of my first year at Trinity, I decided to come to one of the FTO meetings to see if I would like the experience," Perry said. "Like I said, I learned a bit of improv in high school, but really started developing my skills when I joined FTO my first year. Now I'm a junior and one of the club's leaders, and I would attest that anyone can learn how to be a great improviser with some practice."
The group has regular meetings on Fridays where they play improv games and learn improv skills. Aside from those, they do improv shows once a month and parody all of the mainstage performances. Their next show is Feb. 7 in the Cafe Theatre at 7 p.m.