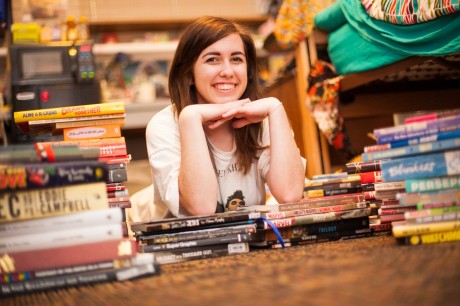 Ever since she first started reading, senior Cecily Fergeson has been collecting books. In high school, she  focused her collection on art and art history books. An aspiring artist, Fergeson often looks to the books in her collection for creative inspiration.
Fergeson, along with junior Monica Clifford, recently won Coates Library's first annual undergraduate book collecting contest. Both students were awarded $100 and are now eligible to participate in the National Collegiate Book Collecting Contest.
Fergeson plans to enter the national contest, but she has to do some preparation first.
"When I get back home for spring break, I plan on getting some more books together and organizing them for the national contest," Fergeson said.
Clifford, a history and communication double major, also intends to enter the contest, but she is not sure how her collection of comics will fare on the national stage.
"I do plan on entering the national contest, but I don't know if I have a good chance because I feel like comic books aren't taken seriously. The term colloquially has a juvenile connotation," Clifford said.
Clifford began the collection in earnest two years ago, but she did not know how extensive it would become at that point.
"It began kind of accidentally. I didn't know when I would be able to read a certain book, so I would just buy it as an impulse purchase for later reading. I started stacking them up pretty quickly, and I eventually realized that I wanted to collect books intentionally," Clifford said.
Although she has not read all of the comics in her collection, Clifford is excited because that means there are still new worlds for her to explore.
"It honestly brings me a lot of joy to see it hanging over me as I do my homework at my desk. I always read something before I go to bed, so I usually choose something from my collection," Clifford said. "I really like having tangible representations of my accomplishments, which sounds vain, but I like having physical books because I feel like that's a dying thing."
Instructional liaison librarian Megan Toups and Amy Roberson, university archivist and special collections librarian, were judges for the contest. Because Clifford and Fergeson were the only entries in the contest, Roberson and Toups believed they both deserved to be awarded.
"We thought it was a good idea to make them both winners because they were both good, quality entries," Toups said.
Despite the low turnout for the contest, Roberson and Toups did not feel overly discouraged, and they plan on using this experience to improve upon the contest for future years.
"We're definitely taking what we learned this year and applying that to future years," Roberson said. "We're considering modifying the essay requirements, and we might change the due date to a Monday so that students have the weekend to get their submission together."
Roberson shared what she enjoyed about Clifford's entry.
"I'm glad that we got Monica's entry because sometimes when people think of comic books or graphic novels they don't see them as legitimate things to collect," Roberson said. "Monica is super enthusiastic about her collection. It was just really fun to see her love for her collection."
Toups discussed what she liked about Fergeson's collection.
"Cecily seemed to have a very intimate feeling about her books. I really liked that she has a very dynamic relationship with her collection. Her books are not just static objects. They're something she constantly goes back to and uses," Toups said.
The library will hold an event from 4 to 5 p.m. on Thursday, March 27, in the lobby area where Clifford and Fergeson will speak about their collections. Toups and other library employees will follow and discuss their own collections and why they collect books. Portions of Clifford and Fergeson's collections will be on display in the library for about a month following the event.