RUF hosts "Conversations for Women" series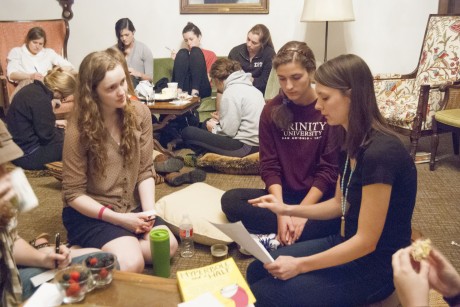 On Thursday, March 27, Reformed University Fellowship hosted its third seminar in a four part series titled "Conversations for Women." The original idea for the series was developed and put into action by RUF intern Emily Louis.
"The idea for the series arose from a need I observed among the women of Trinity University," Louis said. "I found that many women were struggling with different issues that they felt somewhat alone in. They were difficult things that they didn't feel the freedom to talk about with their peers."
Topics discussed at the seminars have included food, body image, depression and anxiety. In preparation for each seminar, Louis researched the topic she planned to discuss, consulted various books and articles, and spoke with specialists in the specific area. Women from both outside of and a part of RUF have attended the discussions.
"The most valuable information I have taken from the seminar discussions is that we are not isolated in our struggles," said first year Annie Cornelius. "Talking about common issues we all inevitably face with the other girls has helped me develop meaningful friendships and expand my awareness of ways to help others in times of struggle."
The seminars often include discussion through small groups, personal stories, readings from books or articles and information presented directly from a specialist. Louis hopes to create an environment where students feel comfortable talking about issues that university life tends to push aside or ignore altogether.
"We've talked a lot about the importance of recognizing truth amongst lies," said senior Lauren Turley. "I hear and see so many messages every day that tell me who I am that are simply false."
Each seminar focuses on turning the negativity often associated with these difficult topics into something more positive, discussing healthy ways of addressing the challenges many college women face.
The final talk in the "Conversations for Women" series will be on relationships. It is scheduled for 8 p.m. on Thursday, April 24, in the Parker Chapel parlor.
Leave a Comment