Black Student Union advises local high school students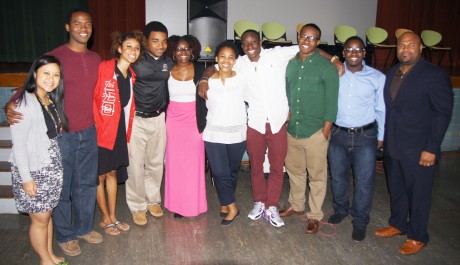 Last Tuesday, members of the Black Student Union and the Black Male Leadership Initiative groups visited Sam Houston High School to speak to students and answer questions they had about life after graduation.
Sam Houston High School is located on the east side of San Antonio. The school was holding an assembly for seniors and invited the BSU and BMLI to share advice about college.
"We shared our coming-to-college experience, things we wish we would've known prior to coming to college," said junior Aaron Harwell, president of BMLI. "We discussed difficulties we faced and how we overcame them."
The high school students were interested to hear about life at Trinity and asked questions about the social and academic atmosphere.
"One guy wanted to know about the parties and another asked about the girls," said junior Christopher Williams, president of BSU. "Another student asked about financial aid. We also answered a lot of questions about Trinity's diversity."
The topic of diversity was particularly relevant because Sam Houston high school students are predominately African American. The members of BSU and BMLI were able to give first-hand advice based on their experience as black college students.
"The group they were speaking to was very much like them in terms of ethnicity and coming from schools that weren't particularly diverse," said John Orange, assistant director of institutional research at Trinity.
"We talked about how to interact with different types of people you will encounter in college. We gave advice about the importance of being open and learning from everyone, despite racial, socio-economic or other differences," Williams said.
The BSU and BMLI also gave advice about college life in general.
"We talked about time management and how to do things sparingly. For example, you can party now and then but don't do it all the time," Williams said. "Another piece of advice was to not be scared to ask for help. We encouraged them to seek help from professors and peer tutors and also just to get involved."
The trip to Sam Houston High School was one of many community service opportunities the BSU and BMLI have taken part in this year.
"I'm really proud of them because one of the organizations' goals is to not only have a presence on Trinity's campus, but also in the San Antonio community," said Soi Smith, coordinator for diversity and intercultural relations.
"They've gained a lot of leadership skills. They've really stepped up," Orange said.
The BSU and BMLI representatives both emphasized the importance of investing in the next wave of college students. Volunteering and community service are a key aspect of both organizations
"No matter what organization you're in, you should give back. You never know what kind of impact you will have on someone," Williams said.
"Students should definitely go volunteer somewhere," said Harwell. "It's not only a gift to someone you're helping; it's a gift to you."
View Comments (1)