Class marshals, alumni sponsor prepare to meet, guide Class of 2018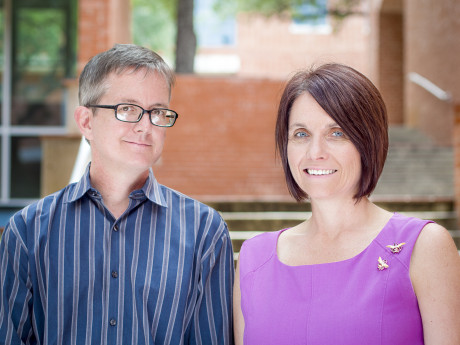 Each year, members of the Trinity faculty serve as class marshals, and a Trinity alumnus serves as a sponsor for the upcoming first-year class. Jennifer Henderson and Aaron Delwiche, both professors in the department of communication, are class marshals for the class of 2018. Leni Kirkman, '84, will serve as the alumni sponsor.
Both the class marshals and the alumna sponsor stay with the class of 2018 through all four of their years at Trinity.
"We thought it was a great opportunity and an honor to serve in this capacity," Henderson said. "We get to move with the class. We will be at orientation and will be present at different events each year, and then their senior year we will be at graduation."
The class marshals and alumni sponsor act as resources for students and guide the members of the class as they make their way through college.
"I am here to be a resource for the class of 2018, especially in terms of keeping their hectic lives in balance and getting involved in the community," Kirkman said in an email correspondence.
Kirkman also reflected on her time at Trinity, commenting on how much the physical campus has changed, while the attitude of the campus has maintained certain qualities.
"Trinity has changed a great deal in terms of the amazing new facilities, but what remains is a real sense of community," Kirkman said.
Delwiche, Henderson and Kirkman will stay in touch with students through the monthly class newsletter and Facebook, but the three will also invite students to build more personal relationships.
"We communicate regularly to the class through the monthly newsletter," Delwiche said. "We also encourage students to feel free to approach us. Email is a great tool and we also have regular office hours each week."
"We love to have students stop by," Henderson said.
The class marshals and alumni sponsor expressed excitement for watching the students of the class of 2018 grow throughout their time at Trinity.
"Starting as a first year, it is likely you don't know exactly what you want to be. I encourage them to embrace this flexibility," Delwiche said. "I am looking forward to the chance to get to know the students and watch them change."
"[In college, you] become someone different than who you were in high school," Henderson said. "I look forward to seeing students find their passion."
One piece of advice Kirkman gives is to get involved both on and off campus. During her time at Trinity, she was involved in KRTU and Zeta Chi sorority. She also encourages students to try new things.
"Get out of your comfort zone," Kirkman said. "Take classes that sound interesting, not easy.  Push yourself, because you never know what you can achieve if you don't try."
Leave a Comment