TUPD receives international award in Montreal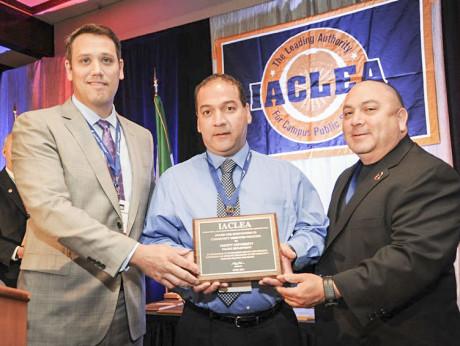 Last June, the Trinity University Police Department received an award for Innovations in Community Oriented Policing from the International Association of Campus Law Enforcement Administrators (IACLEA). Paul Chapa, chief of police, and Paul Morales, community awareness resource officer, accepted the award in Montreal, Canada.
"Most people don't realize the program that we have and the measures we've taken to engage the community. Our department is a part of the community, not apart from it," Chapa said.
TUPD was nominated for the award by Chapa. The international organization examined several of the department's programs, including programs concerning alcohol prevention, sexual assault, the mass notification system and the department website.
"IACLEA took all of our programs into consideration before we received this award. They looked at all of the good we have done for the university," Morales said. "Innovations are a mix of both old and new; the main thing is that we keep evolving, becoming better and better."
IACLEA is made up of chiefs of police from around the world. Receiving this award is a reflection of what TUPD is as an organization, acknowledging the excellent service that they provide for the student body and community at large.
"We continue to strive towards excellence and it's all because of the actions and initiatives of Paul Morales and the officers that are on patrol," Chapa said. "We're not goal-oriented; we're growth-oriented."
Leave a Comment