Neurobiologist and primatologist Sapolsky speaks on being human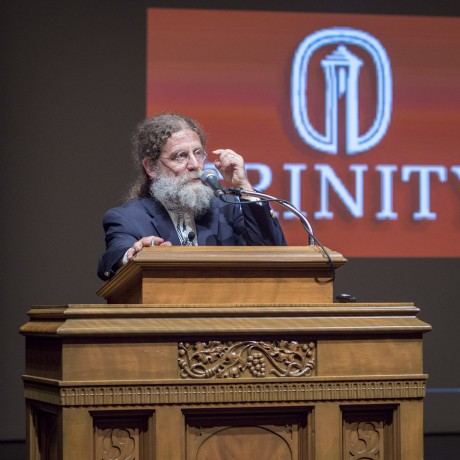 For centuries, people have attempted to answer one question: what are humans? MacArthur Genius Grant recipient and Stanford professor Robert Sapolsky spoke at Trinity with his own answers to that question.
Sapolsky is a primatologist and neurologist who studies groups of baboons and levels of stress. His visit to Trinity was part of the Distinguished Scientist Lecture Series, which brings in prominent scientists to discuss their work and studies in the field and laboratory.
In his lecture at Trinity, he discussed three aspects of humans and what makes them different. First, he described characteristics that are exactly the same in humans as in any other animal. Next, he discussed structures that humans share with other animals but use completely differently. Finally, he addressed characteristics unique to humans.
When speaking on similarities between humans and other animals, he noted that female animals and female humans synchronize their cycles when they are in close quarters with females.
Sapolsky joked about human sexual behavior and how different it was from that of other creatures.
"Hippos would be repulsed…no other species has non-reproductive sex, and they certainly don't talk about it," Sapolsky said.
A large number of Trinity students came out to see him speak and had generally good things to say about the lecture. Sophomore Carolyn Young, a chemistry major, came because of her interest in science. She enjoyed the lecture and particularly noted his charisma.
"He was actually really funny. That isn't what you think of with scientists a lot, but he kept it entertaining," Young said.
Sapolsky answered several questions from the crowd at the end of the lecture. One exchange in particular caught the attention of junior Zachary Treu.
"It kind of shocked me when he stated that he didn't believe in a shred of free will. It was weird to think about," Treu said.
Sapolsky concluded that the things that make humans different are not as extreme as one might suspect.
Leave a Comment