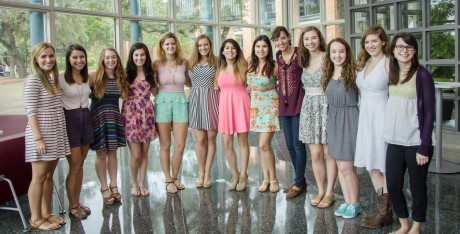 Trinity's a cappella singing groups, the Trinitones and AcaBellas, recently held auditions and added new members to their groups.
The Trinitones is the men's a cappella group. The auditions for the group consisted of performing both individually and with others. After the initial individual auditions, six candidates were called back for auditions with the current Trinitones, and all six made it into the group.
"We were looking for just three or four new members but ended up taking six," said senior Peter Steinbach. "All of the new guys have a lot of talent musically, and they seem to really understand music."
The women's group, the AcaBellas, also gained several new members. The group held similar auditions and callbacks to find new singers who could work together.
"The audition process contains two major events: individual auditions and callbacks," said senior Anna Van Buskirk. "For callbacks we focus on blending. This is more than a vocal quality or skill""it involves conscious effort, being a team player and musical smarts."
Several of the new members are upperclassmen, proving it is never too late to try something new.
"I saw the AcaBellas perform before I even came to Trinity and said that I wanted to be a part of that one day, but my schedule was really busy my first two years, so I never had time," said junior Lydia Benedict. "This year I finally have more free time in my schedule, so I went for it."
Other new members embodied the "if at first you don't succeed, try again" mindset.
"I auditioned last year and didn't get in," said sophomore Cullen Moore. "But this year I figured I would try again and made it. We have only had a few performances, but that has been my favorite part so far, and I think it will be fun for the rest of the year. It's a great group of guys."
Aside from working together musically, both a cappella groups say that group dynamics and teamwork are important for all  new members.
"The new Trinitones all fit in really well," said junior Joon Kim of the Trinitones. "I was impressed by how well they were able to adapt."
"We all clicked really quickly," Benedict said.
The a cappella groups alternate performances every Friday in Coates for Happy Fridays and will have numerous other performances throughout the year.
"We love being a part of the Trinity musical community. We enjoy sharing music with our fellow students, the university in general and the greater San Antonio community," Van Buskirk said. "I'm excited to get to know each one of our new members better and to make music with them both at on-campus gigs and off-campus performances."