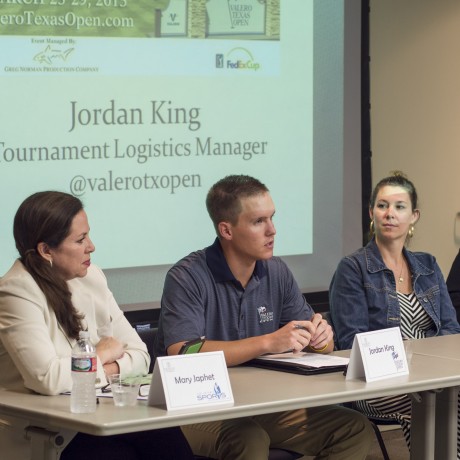 This year, the Sports Internship Panel included the following speakers: Mary Japhet, senior vice president of communications and community engagement at San Antonio Sports; Jordan King, tournament logistics manager at Valero Texas Open; Jeanne Garza, director of corporate partnerships at Spurs Sports and Entertainment; and Rick Hill, vice president of marketing at Valero Alamo Bowl.
The panel was co-sponsored by the sports management minor and Career Services and was hosted by Jacob Tingle, director of the sports management minor at Trinity. This was the third annual panel, discussing how to get job offers and the benefits of an internship.
"I try to get people from organizations that are high-quality, strong organizations, places where our students have been successful in the past," Tingle said. "I know the quality of an internship at the Valero Texas Open. I know the quality of an internship with the Spurs, so I know they're going to give good advice."
This year, the panel focused on how to get the most out of an internship if a student receives an offer. The panel gave general advice, then answered students'squestions at the end.
"Come in with an open mind," Japhet said. "In a small organization like ours, everyone pitches in all the time."
"Show up early and leave late," King said.
King also said he uses teamworkonline.com to search for interns and recommended that students join that network.
"Ask whoever it is that hired you what you can do to get the most out of your internship," Garza said. "Talk to as many people in other departments as possible."
Advice included how to get hired as well. It stressed that the sports industry is one of the toughest to break into.
"Managers do the vast majority of hiring…ask for job shadowing opportunities in entry-level positions," Garza said. "Know the managers. Stand out to the managers. They're the people who are doing the vast majority of hiring."
Many groups made note that, with many applicants applying, it's important for students to stand out.
"We have 50 applicants and we hire three," Hill said. "You want to go above and beyond."
One student asked what the panelists did not want to see in an intern.
"Anticipate the next move," Japhet said. "Don't come stand in my doorway and look at me."
Tingle was pleased with the questions asked.
"The five or six questions that the students asked were just outstanding," Tingle said. "I judge the quality of the questions by the length of the response and every one of the questions had multiple panelists that chimed in and had lots of different layers to their responses."
Students in attendance benefited from the panel as well.
"It was really interesting to see the different perspectives from all the different sports internship opportunities in the area and see what it takes to get those internships," said Andrew Thiesse, a junior majoring in finance. "Who doesn't want to work with the San Antonio Spurs?"
Unlike many other big schools, Trinity can allow for this form of discussion and panels of this nature, because of its small size.
"It's unique that Trinity does something like this. I have friends that go to big schools on the East Coast and they said they don't really get to sit in on anything like this and, if they do, there are thousands of people that show up. So it's really nice to get to talk to some of these people firsthand and see what it's all about," Thiesse said.