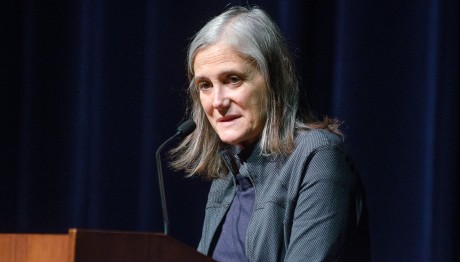 On Tuesday, Oct. 7, journalist Amy Goodman spoke in Trinity's Stieren Theater as part of the Maverick Lecture Series with a presentation entitled "Independent Media in a Time of War and Elections."
Goodman's presentation was the eighth in the series made possible by the William and Salome Scanlan Foundation. The series honors the civil rights lawyer Maury Maverick, Jr., with the purpose of supporting educational, environmental and human rights.
"As a university, we believe in bringing many diverse voices to Texas, and the Maverick Lecture allows you to hear people you would not commonly hear around the state," said Dennis Ahlburg, president of the university, in his introduction to the lecture.
Amy Goodman is the author of five books as well as the host and executive producer of the independent broadcast news program "Democracy Now!" In her lecture, Goodman stressed the importance of independent media.
"I think the media can be the greatest force for peace on earth; instead, it is wielded as a weapon of war," Goodman said. "That has to be changed. That has to be challenged. The banished, the banned, the beaten: these are the people that we need to listen to, these are the leaders of tomorrow."
Speaking from her personal experiences in areas such as East Timor, Goodman encouraged media to feature the voices that are often disregarded or completely ignored.
"Amy's stories remind all of us that many media outlets will not report on everything newsworthy," said Amaris Estep, a junior. "Since her work doesn't discriminate in this way, it focuses on humanizing all people facing oppression and maintains the hope of promoting peace."
Using Frederick Douglass, Susan B. Anthony and Rosa Parks as examples, Goodman illustrated the power of an individual's voice and the importance that their representation can have in bringing about change.
"Amy Goodman is sort of a badass for democracy and free press, so seeing her speak was really cool. She was often very controversial, which could really be felt in the auditorium," said Ben Whitehead, a senior. "At times she would say something that people passionately agreed with, but you could also feel other people sort of awkwardly sitting in their seats."
Goodman's news broadcast, "Democracy Now!," strives to represent independent and diverse sources in the news and information discussed in the show.
"Independent media is dangerous""dangerous because it allows people to speak for themselves, and when you hear someone speaking from their own experience""whether it's a Palestinian child or an Israeli grandmother, whether it's an aunt in Iraq or an uncle in Afghanistan""when you hear someone describing their own experience, it begins to break down barriers," Goodman said.
For more information on Goodman and these topics, visit democracynow.org.