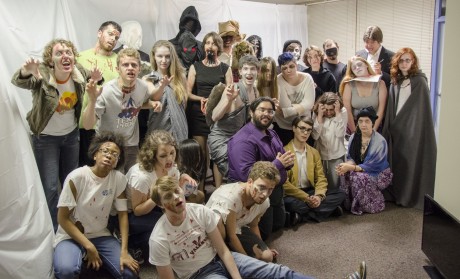 On Saturday, Oct. 25, residents of Susanna Hall, known as the Swashbucklers, hosted their annual Haunted Hall on the residence hall's second floor. The event included a guided tour through a chain of rooms featuring different acts and scares.
"I've helped with the construction of the hall for the past three years, including this one," said Dayton King, a senior. "Last year I helped build half of the hall, but I'm very honored that this year I get to be in charge of the entirety of the hall."
As the architect of Haunted Hall, King was responsible for gathering ideas from the community, deciding which ideas were feasible to put into action and then finding a cohesive way to connect the various rooms.
"You can volunteer your room for the Haunted Hall, but we generally want rooms from the same floor because otherwise that gets awkward," said Kelly Seeber, a senior. "Then we ask people to participate. This year I actually volunteered to run a room."
Several hall members and friends of the hall residents dressed up as characters to act and scare those who visited the hall. Others helped with construction ideas, planning and set-up.
"It's a great activity because we also invite first years to help out who are friends with the hall, so it's a nice way to recruit people to join the hall next year," King said.
Some members of the hall, like King, dressed as morticians and acted as tour guides for those who visited the Haunted Hall.
"Your tour guide may accidentally lock you in, or something like that," said Sarah Walters, a junior. "We should just hire less clumsy tour guides but, you know, what can you do?"
This year, Walters was in charge of organization, compiling supplies and dividing people into different roles. Everyone involved came together early Saturday morning and spent the day constructing the hall until just before the opening of the event.
"It's a really fun time because you go in and you're not really sure what to expect," Seeber said. "It's scary, but it's also really fun; we have no idea how certain rooms will go over and you have no idea which rooms people are actually going to be scared of."
Every year is different, but rooms have included Weeping Angels from the popular television show "Doctor Who," an asylum, a crazy cat lady and a final zombie scare. Members of the hall cover and remove furniture from the rooms, build props and visit local Halloween stores for supplies and costume materials.
"Haunted Hall is reimbursed by SGA every year, which we're really thankful for," King said. "We try to keep the cost low and""as long as we maintain a decent attendance""we get our funding back. Every year we've actually had more attendees than the previous year."
The hall had 140 visitors this year, their largest turn-out to date. The Swashbucklers encourage Trinity students to come out for next year's Haunted Hall and to consider joining the hall next year.