The Trinity Review hosts annual Scary Story Contest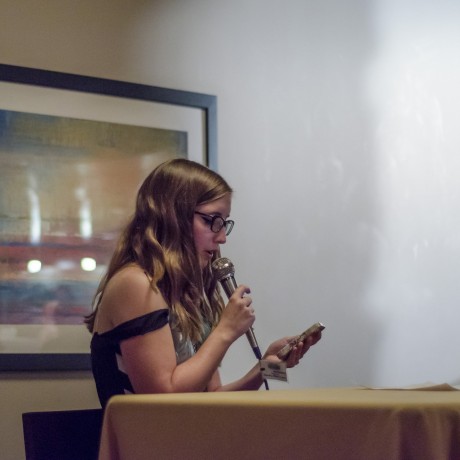 Last Thursday, The Trinity Review hosted its annual Scary Story Contest with a cash prize and professors as judges. A total of six students entered the competition and presented original works.
Kelly Carlisle, assistant professor of English, and Paul Myers, chair of computer science, judged the competition and named Julia Smith, senior and co-editor of The Trinity Review, the winner. Smith's story was about a troubled teenage kid with a horrible home life who loses his mind. The scariest part of the story was the creepy ending after the boy steals from a department store.
"After he accidentally shoots the clerk in the department store, he starts running away but the language gets very confusing and has lots of dark imagery. I liked the image of him tugging at this guy's skin while he was running and metaphorically shaving away his humanity until he was just blackened bones," Smith said.
According to Smith, she donated the $30 winnings back to the organization because she didn't expect to win and is on The Trinity Review staff.
The event also featured a Halloween costume contest judged by The Trinity Review co-editors, Smith and senior Blake Keeling. The winner was dressed as a scary zombie and received a huge pot of candy.
After the contests, there was an open mic during which students were encouraged to present original and non-original work such as a favorite poem, story or song.
"I think it's a great way to share the talent in the Trinity community. It's always really cool to hear the different stories people come up with and the different kinds of things people think are scary," said Tarryn Pollard, event planning head of The Trinity Review.
This long-standing traditional event is usually held in the Tigers' Den; however, that space is no longer used for hosting events. The staff expressed sorrow over using the Skyline Room instead because they preferred the eerie vibe made possible by the lack of windows in the Tigers' Den.
The Trinity Review is a literary magazine, published annually, featuring works from the Trinity community. It is a compilation of short stories, poems, photography and visual art, intended to showcase students's talents.
"I think everybody who writes something wants it to be shared, in a way, and wants it to be acknowledged. I think it's important so people can get their creativity out and share it with people who are actually interested," Keeling said.
Pollard, who won the scary story contest last year, added, "It encourages people to write and get their writing out there, which is really the point of The Trinity Review: to get Trinity writing out there."
Submissions for the magazine open in November, and The Trinity Review will host their first ever holiday party in December with a similar open mic format.
Leave a Comment