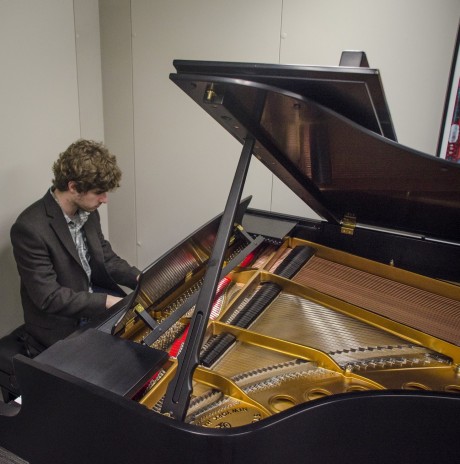 With the purchase of 32 brand-new Steinway pianos last spring, Trinity has become one of 169 other schools in the world to be called an all-Steinway school.
Thanks to the large gift of a donor, Trinity now has 43 Steinway pianos throughout campus, as well as the prestige associated with having only handcrafted pianos.
At 7:30 p.m.  tonight in Ruth Taylor Recital Hall, a performance will be held by David Heller, chair of the music department, and Carolyn True, piano professor, to thank the donors who made this purchase possible and celebrate Trinity's designation as an all-Steinway school.
"The pianos are fantastic, obviously""they're beautiful and just plain fun to make music on. On a functional level, they're a long-needed upgrade to the pianos department-wide. But I think the greatest part of all of this is becoming an all-Steinway school and the prestige that comes with that," said Allyson Phillips, a junior choral music education major.
The donors who financed the purchase of the pianos are Jim and Janet Dicke from the Board of Trustees, who also helped make possible the construction of the Dicke/Smith Art and Music Building in 2006.
David Heller describes the generosity of the Dickes as "a tremendous gift" and wants to thank Jim and Janet Dicke again publicly Friday night.
"He is a wonderful human being; he is an alumnus of Trinity, him and his wife. They love this school, they love music, they love the arts, and this was a further extension of their generosity and gratitude to Trinity University and we are so grateful for that," Heller said. "What they have done is they have made possible so many opportunities for students not just now but for generations to come, both with the building and now with the gift of the pianos."
Heller and True, along with Amy Lazzell, academic office assistant for the department of music,  traveled to the Steinway gallery in New York in May to select the new pianos.
Heller and True played many pianos to test out the sound and feel of them all, while Lazzell documented the trip and helped with the business aspect of the purchase. Donors Jim and Janet Dicke joined the Trinity faculty in New York and picked out a new concert grand piano that is glossy black with maroon tones for Trinity.
"Each piano is singly crafted so each one will have its own character, not only in the way it sounds but the way it feels in the keyboard and how you play it," Heller said.
The event tonight will feature several performances by Heller, True and students with the Board of Trustees in attendance, as well as Dennis Ahlburg, president of Trinity.
"The event is really going to be special. We'll have the donors there and it's just going to be a really big celebration, and we'll have a really nice reception afterwards," Lazzell said.
"I feel  honored to be chosen to perform at this event. It really shows how supportive the music department is of its students," said junior Caileen Tallant. "I think this is a great way to celebrate these amazing piano additions."