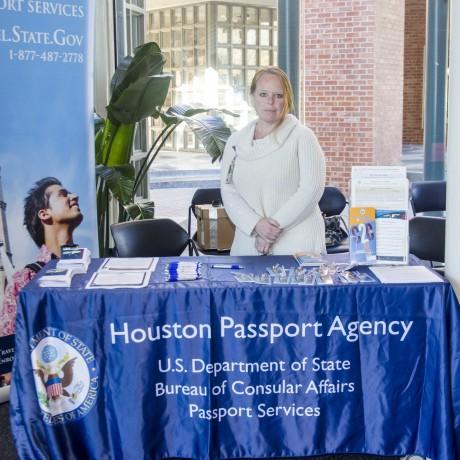 International Education Week 2014 was held Monday, Nov. 17, to Friday, Nov. 21, and featured numerous daily events on campus. The week was held in conjunction with a national initiative of the U.S. Departments of State and Education, and it is meant to bring awareness to international education programs and the variety of ways Trinity incorporates international education into campus activities.
"The goal of this week is to make our students aware of internationally-themed events, lectures, study abroad programs and opportunities available at Trinity," said Andre Martinez, study abroad advisor. "Many students know what is happening internationally but then there are many that never look beyond the borders of campus."
Some of the week's events included information sessions for faculty-led study abroad programs, a study abroad photo contest display, presentations on international experiences and "A Taste of Vietnam," hosted by the Vietnamese Student Association.
A majority of the events were new this year, such as a visit by representatives from the U.S. Passport Agency to give travel safety tips, tables set up in Coates Center for information on study abroad programs and international programming by KRTU.
Martinez added more about the importance of international education.
"International education is important because it allows us to learn about other cultures, people, politics, history, geography and about other systems different from our own," Martinez said. "Trinity students that go abroad for a semester, in summer, or with a Trinity faculty-led program will have the opportunity to develop the cross-cultural skills necessary to live and work in the global workforce."
The International Cinema Club (ICC) hosted a screening of "Under the Bombs," a movie about a woman's struggles with war in Lebanon, to raise awareness about different cultures.
"We believe that much can be learned about a nation or a set of beliefs by what is presented in popular media," said Nipuni Gomez, sophomore and ICC president. "Thus, our aim is to watch foreign films together and provide students and faculty from the countries of production with an opportunity to explain hidden meanings behind the films's components."
Nancy Ericksen, assistant director for study abroad, highlighted the international nature of Trinity: almost 10 percent of Trinity students are international, and many faculty and staff conduct international research and programs.
"We could pick almost any week at Trinity University and find films, meetings, speakers or presentations that connect us to the wider world," Ericksen said.
Stephanie Herzog, international student and scholar services advisor, helped organize the week with Martinez, and she emphasizes the importance of International Education Week for Trinity since it has not been celebrated in recent years.
"It is in many ways our responsibility to educate ourselves and each other about cultures different from our own and about events taking place around the world that could impact humanity as a whole," Herzog said. "International Education Week serves as a platform to share and celebrate the powerful impact of education around the world as well as to promote international understanding and build international ties."