Trinity Diversity Connection restructured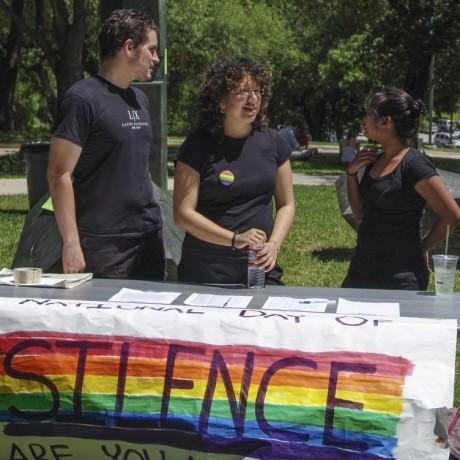 As of this month, Trinity Diversity Connection (TDC) has restructured itself as a university-sponsored organization. It is shifting away from being an umbrella organization to allow a clear execution of its goals on Trinity's campus. From the start, TDC served as a parent organization to provide support and structure for smaller student organizations focused on representing diverse interests and minority groups on campus.
"TDC was created because there was a need for support and a need in educating the campus on diversity," said Soisouda Smith, coordinator for diversity and intercultural relations and staff advisor to TDC.
We still have that need and we are a university-sponsored organization because they feel diversity is important and a skill, knowledge and tool that all students should get before they leave Trinity," said The organization once managed 11 independent student organizations, including the Sexual Diversity Alliance, Black Student Union and the Filipino Student Association. These groups reported to TDC and were required to attend TDC events and adhere to certain requirements. In the past, these groups also went to TDC for funding requests, but when all student organizations shifted towards asking SGA for funding, the role of TDC for these groups became blurred.
"We have a vision for ourselves to create change on campus and not so much managing these other groups. But what do we do with the other groups, now, that used to be under us? We are letting them know what they need in terms of resource. It's more empowering them than micromanaging them," Smith said.
This move toward complete independence from former sub-groups will allow TDC to focus on their own goals and allow these diversity groups to function just as they had before but without the restraints.
"The changes TDC has made will allow it to better serve the campus community. Instead of TDC being bogged down by trying to manage associate groups, it can now focus on getting more programs out to benefit the campus's understanding of diversity, and all that diversity encompasses," said Leah Press, senior and former president of TDC.
A new constitution and a newly elected board will give more focus to TDC and their own events tailored toward promoting diversity on Trinity's campus.
"I feel that these changes will bring about a new presence to TDC as an organization that actively engages in campus life. For the former sub-groups, I believe that they will gain much more autonomy while still able to get support from TDC," said Dzung Vu, sophomore and president of TDC.
TDC will remain one of the "Big Six" organizations on campus. Other groups that were once under the TDC umbrella are: Asian Subcontinental Association/Hindu Student Union, Japanese Student Association, TU Latino Association, Muslim Student Association, Vietnamese Student Association, Japanese Culture Club and Chinese Culture Club.
Leave a Comment