Trinity admissions staff reports increase in application diversity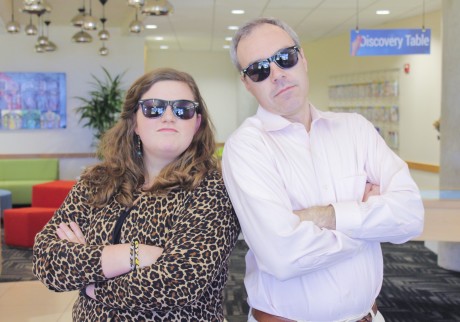 For all those wondering just what exactly is happening in admissions this time of year, I sat down with three members of the admissions team.
All applications for the 2015-16 school year at Trinity were due on Feb. 1, and those who applied for early action or early decision I or II, have all been notified of their acceptances as of last week. With all applications in, and most applicants notified of acceptance or not, the Office of Admissions now looks to continue reviewing regular applications and get those early-accepted students to visit Trinity before the May 1 deposit deadline.
I first spoke to director of domestic recruitment, Justin Doty, who gave me statistics and offered insight on how Trinity tracks numbers and actions of prospective students. As of Feb. 6, there were 5,226 applications to Trinity and 88 deposits so far for the coming academic year.
Q: In general, what is going on right now with admissions?
A: It's kind of a crazy time period just in the sense that we are still reviewing and still really trying to encourage those accepted students to visit campus. That's the biggest push, if we can get them to campus and they see this place and really expose them to all aspects of Trinity, the chances of them actually enrolling skyrockets.
Q: What is the busiest time of the year?
A: Spring is probably the busiest because what we are going to start to run into in March and April is we've pretty much solidified our accepted students at that point. We are hosting these big programs on campus to get people to visit but we also have this whole other wave of high school juniors that are just now starting their search process. We devote time and attention to both juniors, who are beginning their search, and seniors, who are trying to come to a final decision. So, it becomes very difficult to manage both groups because they are very different populations.
Q: When do you see most students put in their deposits?
A: We typically get 45 to 50 percent of our freshman deposits in the last two weeks of April before the May 1 deadline. For us, that is the time period that is most nerve-racking because we have all these accepted students out there and we've been working with them for so long and we are all on pins and needles trying to figure out if they are coming or not. As admissions counselors we get really invested in this process because we get to know these students really well.
Next, I sat down with admissions counselor and 2014 Trinity graduate Hillary Everts to learn about the day in the life of reviewing applications and constantly building personal relationships with prospective students.
Q: What do you do on a daily basis?
A: A lot of my day is spent communicating with prospective students through email and phone calls, encouraging them to complete their applications and answering questions regarding the documents they need to submit and also writing notes. We really try our very best to create a personalized recruitment for each individual and build relationships with them.
Lastly, I spoke with Kindel Hollis, 2007 Trinity graduate and associate director of admissions, who shed some light on the busy nature of spring campus visits. President's Day proved to be a full day of visits as most high schoolers had the day off. Last Saturday, Trinity hosted a 360 program for admitted students and the next Saturday, Feb. 28, will be the 3rd annual Trinity Tower Scholars competition where admitted students can compete for 20 full-ride scholarships. This year admissions estimates there will be around 300 students in attendance, a massive increase from the first two years.
Q: What has been the effect of moving admissions up to Northrup?
A: It's really a game changer for us being up here. The energy, the life on campus, having the access to students and faculty, being able to show a reflection of our campus and community to potential students, and it is easier to find. The bigger impact is just having people in the heart of campus. When you walk out of the door to go on a campus tour, you immediately see students walking to and from class, there's a life that is visible.
Overall, admissions reported higher numbers of applications this year and a more diverse pool of applicants to choose from. Also mentioned was the increase in international applications and higher competition for scholarships among these students. Entirely new this year for admissions is a junior-specific program on March 30 designed to provide an experiential look at Trinity, both academically and with extra-curricular activities.
Leave a Comment