Health Services hosts event to encourage healthy living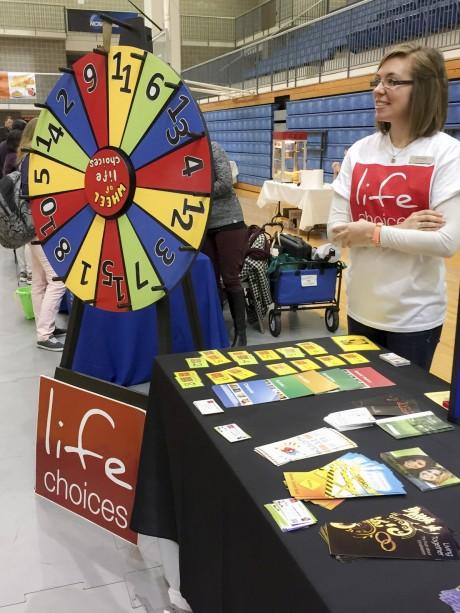 "Get your tail to the gym" was the slogan last Tuesday as Trinity hosted its annual Health and Fitness Day in Sams Gym for students, faculty and staff.
The event was sponsored by Health Services, the Trinity athletic department and the Trinity staff engagement committee.
"The purpose of this annual event is to make people aware of health and fitness issues and to let them know what's available in the community both on and off campus," said Jackie Bevilacqua, coordinator of Health Services. "It's also to encourage a healthy lifestyle."
Health and Fitness Day used to be held on upper campus in the Fiesta Room and on the Esplanade, but has since moved to the Bell Athletic Center to encourage more student participation.
Dozens of tables created a border around the gym with representatives from various organizations ready to talk to people about their services or answer any questions.
Upon entering the gym, students received a card marked with the names of all the different organizations located at each table. After receiving stamps from five of the tables and answering a few questions on the back of the card, students could receive a long-sleeved T-shirt and enter their name in a drawing to win a Fitbit.
"We call all the organizations we can think of in the community and invite them to come," Bevilacqua said. "It changes from year to year and we're always looking for new exhibitors."
Some of the tables even had interactive elements, such as a fire extinguisher demonstration by the Trinity environmental health and safety department that allowed students to test their ability to put out a digital fire using a fire extinguisher.
Healthy snacks were offered as well, including pita bread, hummus, yogurt, muffins, fruits and vegetables.
There were many types of health screenings offered at the event such as glucose testing, blood pressure measurements, body mass index measurements and screenings for diabetes and kidney disease. Employees from Touchstone Massage Therapy were also at the event giving free chair massages.
Deborra Cardenas, ITS help desk manager and member of the Trinity staff engagement committee, believes there are many benefits of an event like this for faculty, staff and students.
"The great vendors that come to this event are here to help faculty, staff and students and to let everyone know about the great businesses that are here in San Antonio," Cardenas said. "Also, there's getting everybody out and bringing them to a central location so that they can participate and become more aware of their health. There's the camaraderie of being here with your peers and coworkers."
In the middle of the gym, students could play sixty-second games inspired by the television show "Minute to Win It." The various games available included keeping three balloons in the air or stacking cups into a pyramid.
"The "˜Minute to Win It' games get energy pumping and your blood going," Cardenas said. "It allows everybody to show different forms of fitness, not just exercise."
Sophomore Monica Holguin attended Health and Fitness Day for the first time this year.
"I thought it was interesting, just getting to do different things," Holguin said. "I've never had glucose testing done before, so I thought it was really interesting just being able to do that."
Holguin also liked being able to talk to people from the organizations at different tables.
"I think it helps everyone to come out here and see what's around and see what's coming up in the next school year," Holguin said. "TUPD talked about having a new self-defense class next semester that can be taken as a credit, which is really cool."
The Trinity Staff Engagement committee played a large role in organizing this year's event.
"We're a fairly new committee that's been around for four years," Cardenas said. "We worked a lot with health services and O-Rec to help promote this event."
About a hundred students attended Health and Fitness Day this year.
Leave a Comment