Senior addresses civic disengagement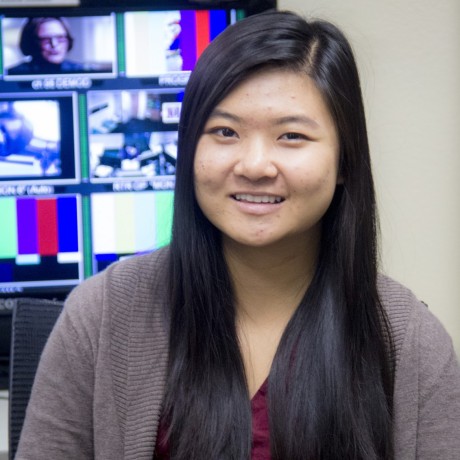 Senior Anthia Liu firmly believes that students can make a change and impact their surrounding community by using all the resources Trinity has available. Liu is an international business and film and television studies double-major whose creative project for her second interdisciplinary major aims to tackle the issue of civic disengagement.
"I think students can be a powerful vehicle for change and, being at Trinity, we have so many different resources available. For me being a first-generation college student, I see all of these resources as powerful knowledge and information that we can use to go into various fields," Liu said.
Liu is creating a TV show called "Grassroots," where teams of three students will brainstorm a solution to the problem of civic disengagement, then pitch their ideas to community leaders. The winner is given a prize and can potentially have their solution actually implemented. Liu and a crew of students will film the entire process of learning about the issue and then have students research how to solve the problem.
"This is all so much bigger than my Capstone project; it shows community building, bridging the gap between the talent and resources of Trinity students, faculty and the community here with that of the city of San Antonio," Liu said.
Liu draws her inspiration from the low levels of voter turnout in the 18 to 25 demographic and her own difficulties in the process of registering to vote.
Confirmed participants from the San Antonio community in the program are district 8 councilman Ron Nirenberg, interim CEO of SA2020 Molly Cox and director of the Esperanza Peace and Justice Center Graciela Sanchez, all of whom Liu met through the San Antonio policy institute.
Liu's creative project course is designed to bring together all the courses she has taken at Trinity to create her interdisciplinary major of film and television studies.
"It really is a challenge for me to be able to use everything that I've learned from different departments and bring it all together in a creative way in film and television. It's organic and I have the whole semester to come up with it from beginning to finish," Liu said.
The hour-long program will be created in partnership with TigerTV on April 25, and Liu is seeking students to help her film the entire event and students to participate as a team. Be on the lookout for flyers or contact Liu at [email protected] for more information about her creative project.
Leave a Comment