Hillary Dohoney wins student art purchase competition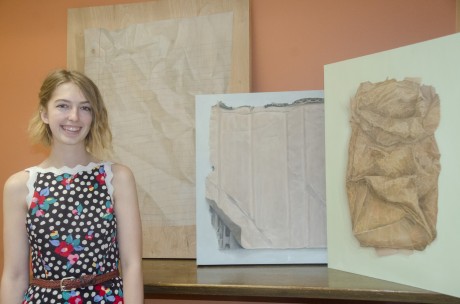 In a continuing effort to display more student artwork on campus, the library hosted a competition for the second year to allow current art majors the opportunity to have their work purchased. Out of five students who each submitted several pieces for consideration, senior art major Hillary Dohoney won the hearts of the library selection committee with her realistic oil paintings, as three of her pieces were the only ones purchased this year.
"We wanted to bring some new art into the library and we really wanted to see student artwork highlighted and presented. We are excited to see what students are doing and to celebrate that and present that as part of our art collection," said Benjamin Harris, head of instruction services and associate professor.
A selection committee of three library faculty members chose the artworks from a pool of art major applicants. The three works purchased from Dohoney are realistic oil paintings of a crumpled piece of cardboard, notebook paper and a paper bag. Her goal of these pieces is to give back meaning to these seemingly unrecognized objects.
"My goal is to reveal the human bias present in everyday thinking and address the issue of thoughtless waste. I represent the commonplace, the underrepresented and mass-produced. Portraits of people are standard but portraits of paper or trash are met with confusion""these are the types of biases I like to challenge with my work," Dohoney said in the artist statement given during the application process.
Harris emphasizes the experience art majors receive by submitting their artwork for consideration in a professional setting.
"We asked students to do what they would do if they were going to be entering another competition someplace else or if they were trying to sell their work. They priced their work just like they would do for a gallery. It gives them the opportunity to go through the process of proposing that someone buy their work, and people who might be going into work as part of their career""it gives them that experience and potentially a sale," Harris said.
Next year the program will be open to all majors in an effort to increase participation as well as encourage non-art majors to share their artwork and creative talent.
"I am truly honored to have my work bought by the school that taught me the skills I needed in order to create the pieces. It feels like a fitting way to end my time as a student at Trinity," Dohoney said. "The Trinity Art Purchasing Program is the perfect way to give their students the public exposure they need while simultaneously providing the school with art that livens the campus."
Most of the current library artwork is from the collection of Jim Dicke and other donors. Last year the library purchased seven pieces from three artists and combined with the recent purchase of three of Dohoney's works, the library is slowly but surely growing their student collection. The library remains unsure of where to hang Dohoney's work right now, but they are considering the second floor reading room as an option.
Leave a Comment