Students win cash prize for undergraduate research papers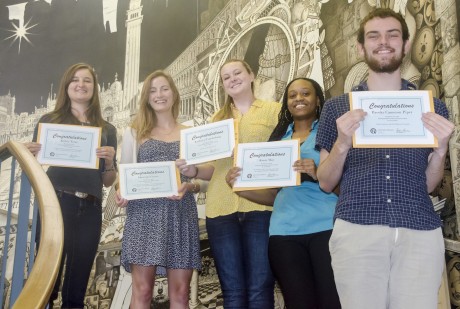 Twenty students submitted research papers for various classes completed in 2014 for the opportunity to win a cash prize as a part of the fifth annual Coates Library Undergraduate Student Research Awards Program.
"We award some of the best research that is submitted by students," said Benjamin Harris, head of instruction services, associate professor and member of the selection committee. "In many cases, the professors really encourage students to submit their work."
The application process involves submitting a cover letter, a letter of recommendation from the teaching faculty member, an essay describing the research process and strategies, a final version of the research project and a final bibliography. A committee of four faculty and three staff members chose the winners this year.
All Trinity students were eligible to apply and submit a paper they wrote for a class during the spring or fall semester of 2014. Applications were due February 6, winners heard the news of their awards on March 6 and awards were presented on April 2.
Six students won cash prizes and will have their papers published on the university's Digital Commons. This award program is part of the library's focus on highlighting and understanding student research.
"For the librarians, it's exciting to get to celebrate students' good work. That's inspiring for us because next year we come back and teach a whole bunch of new students how to do research or improve their research skills and to see those skills in action is exciting for us," Harris said.
Junior history major Kensi May won $500 for her paper titled "The Meaning of the Term "˜Superstition' from Late Antiquity through the Carolingian Era" for her Spring 2014 class "Vikings, Saxons, and Franks."
"My paper is about the ways in which ancient and medieval Christians interpreted the term "˜superstition,' especially in relation to their pagan counterparts," May said. "It feels really nice to know that all of the hours that I put into this paper are being recognized."
Kelsey Toms, a senior history major, won $250 for her capstone paper titled "Profile of runaway servant women based on fugitive notices in the Pennsylvania Gazette, 1729-1760."
"I chose to submit the paper because I spent an entire semester dedicated to creating the best possible demonstration of all that hard learning during my time at Trinity. I had hoped that others would be able to benefit from my hard work," Toms said. "I feel so blessed to have won a prize; it is very satisfying to have one's hard work validated and shared with the Trinity community."
Criteria for the papers focuses closely on the use of sources while the selection committee also looks at the short essay required as a part of the application where the students describe their research process and how they found all the sources.
"We are all looking to see that they've used a variety of different research sources""they've gone to different places, they've found different things""and they've brought them together; that is a key component to the process. We also look pretty closely at how they use the source; we are looking to see the sources used purposefully in presenting an argument or showing a history. Those are the two most important criteria."
Although there is an award specifically for first years, none applied this year so the library gave an additional prize to the open category of all students. The six winners are as follows:
Christine Crowe $1000
Brooks Cameron Piper $500
Kensi May $500
Kelsey Toms $250
Stephanie O'Connor $100
Kathryn Funderburg $100
Leave a Comment