Two seniors honored for outstanding service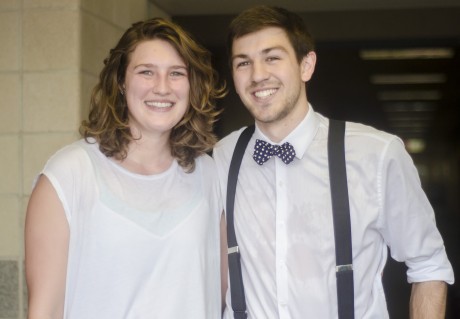 Seniors Benjamin Whitehead and May Lea Watson were honored by Trinity University's Alumni Association for their outstanding service to the university and to San Antonio.
Whitehead, an economics major from Boerne, Texas, played a significant role in the founding of HOPE (Homelessness Outreach Pursuing Education) Hall and has worked with the MEYO  (Multi-level Educational Youth Outreach) program through TUVAC (Trinity University Volunteer Action Community) and serves as a Student Ambassador. He has also been president and treasurer of the Trinity chapter of the National Society of Collegiate Scholars, an academic honor society.
Furthermore, Whitehead has been a university Tour Guide since his first year at Trinity and has been part of the restructuring of the tour guide organization and the overall improvement of the campus visit experience.
Whitehead has also worked and volunteered for admissions in many other ways, including being a TDR member (Trinity Distinguished Representatives).
"I've always been willing to step in and help with various projects headed up by others, such as voter registration drives and tabling for Dean Tuttle's half-marathon challenge food drive," Whitehead said.
Whitehead says he is driven by the deep sense of community.
"There's an African proverb that I learned about while reading one of Desmond Tutu's books. It's called ubuntu and reflects this idea that someone is a person through other people, so my humanity is inextricably tied to yours. I think that idea""that feeling""of interconnectedness and interdependence is what truly drives me to serve," Whitehead said.
Watson, an urban studies major from Wimberley, Texas, is the co-founder and director of Peace Camp, a nonprofit summer camp for children and youth on San Antonio's West Side, through the Divine Redeemer Presbyterian Church.
"For most of these kids, their parents work all day," Watson said. "We believe they are already at a disadvantage, coming from high poverty, and most are first generation, so we want to offer a safe, loving community…I'm passionate about this program; my ultimate big picture is that I dream of a national urban-based camp nonprofit program so there can be a lot of peace camps everywhere."
She has served as a program head for TUVAC and organized Trinity students to serve the MEYO program during the academic year. Moreover, Watson is a Student Ambassador, serving as the 2014-15 senior gift committee chair, and was involved as a first-year student in the Trinity Plunge, a mission outreach in downtown San Antonio. She has served a total of over 250 community service hours.
Leave a Comment