Cultural norms, intimidation, parents and teachers who reinforce stereotypes and sexual harassment are just a few possible reasons for the underrepresentation of women in science, technology, engineering and mathematics fields. Last Thursday night, a panel of women in these fields convened to discuss the roots, realities and effects of the gender gap in STEM fields as part of the ongoing diversity dialogue series sponsored by Trinity Diversity Connection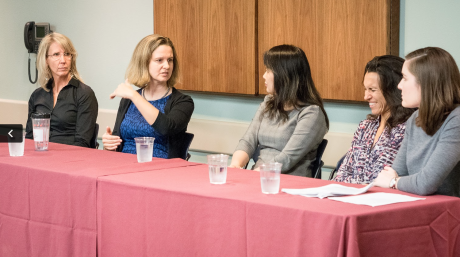 The Waxahachie room began to fill up at 7:30 Thursday night with students interested in hearing from a panel of successful women in STEM. The panel consisted of four professors in STEM departments at Trinity and one female STEM alumnus. A moderator asked the panel a question, each panelist replied, and then the audience was able to respond with questions and comments.
When asked why they think there is a gender gap in STEM, the panelists had various responses, and several of them referred to concepts in their areas of expertise.
"I think that if you look back at very early societies of humans, I would suspect that males and females had a lot of mutual respect for each other's intelligence and intuition," said Kelly Lyons, associate professor of biology and international studies. "I think that that sort of mutual respect broke down as we became more industrialized."

Lyons' colleague Niescja Turner, professor of physics continued.
"We have a system where we have biases, some of which we're aware of and some we are unaware of and we have a cultural system which works in some subtle and not so subtle ways to keep women out," Turner said.
Lyons and Turner then discussed the power struggle in STEM fields and in society in general and said that the most highly regarded professions are stereotypically and actually dominated by men.
Another proposed reason for underrepresentation of women in STEM is the way parents, teachers and major influencers in the lives of young people deciding what career to pursue often discourage young women from going into these fields.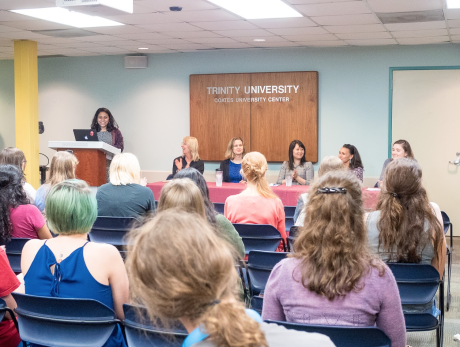 "I think that's the root of the problem," said Hoa Nguyen, associate professor of mathematics. "When girls grow up in a culture, in a family or with teachers [that] discourage the pursuit of careers in STEM because they are assumed to be for men."
Marilyn Wooten, instructor of chemistry agreed. She added that many might think that the work will be too hard or the lifestyle associated with a STEM career is not for them.
"I think girls also self-select. They sometimes get an impression that it is going to be more challenging so they just kind of pull themselves out. Sometimes, if you consider farther down the road, for example deciding to have a kid, you have to think about how you're going to balance all that," Wooten said.
The women were then asked if they had personally experienced any barriers as women in STEM. Responses included Lyons struggling to assert herself and have her voice heard in meetings dominated by men, Turner facing jealousy and harassment at work and Nguyen having to deal with being the target of sexist jokes and comments.
In addition to the four faculty members, Veronica Richter-McDonald, a 2012 alumna who studied mechanical engineering at Trinity and currently works as an engineer in San Antonio, participated in the panel as well.
Richter-McDonald remembered instances in school and in the workplace after graduation of being outnumbered in the engineering field and looking around and being the only woman.
"It is a very deflating feeling when you get into the industry and you look around and you are the only woman there," Richter-McDonald said. "20% is the rough figure of women in engineering today. If you only start with 20% of the field in university, you can't expect to make headway in the industry. It's only going to dwindle from there."
Richter-McDonald remembered more instances of blatant discrimination in the workplace, but she and the other panelists agreed that Trinity students sometimes reinforce gender roles in some classroom and lab settings.
"I see it in group dynamics in the laboratory," Lyons said. "Often the person who is in charge in the lab group is a male."
Nguyen also remembered a time when students in her class were working in a group and a male student took control. She said that the female students almost automatically assumed that he should be the leader and that he was better at math because he was a male.
Sometimes, someone may not even realize he or she is being offensive or discriminatory, but their words may still hurt.
"Joking about diversity and gender issues is really not funny when you're the minority being joked about. The person honestly may be completely unaware, but if you're making a joke that is potentially offensive to women or minorities in your department they probably don't find it funny," Richter-McDonald said.
Based on these observations, it is important for Trinity students to be aware of how what they are saying may affect someone else.
Many students in attendance agreed that recognizing the sources of discrimination and underrepresentation and acknowledging the presence of stereotypes around STEM even at Trinity is an important step in fixing the problem.
First year Olivia Roybal attended the panel and felt that she could relate to the women's stories.
"I am considering majoring in something related to biology. A lot of the experiences I've had relate to what these professors are talking about," Roybal said. "I think it's hard to speak up in the first place and hard to see that there is a supportive community behind you."
Roybal said that Thursday night's discussions helped her remember that she is not alone.
"I think when people who are concerned about it come together and talk about it, its a good reminder that there are people who agree with you and support you in your challenging of the system," Roybal said.
Creating this sense of unity and community was one goal of the event. Trinity Diversity Connection (TDC) and Trinity Women in Science (TWIST), the co-hosts of the event aimed to encouraged and support STEM majors.
"Hopefully it will influence people who are STEM majors and reassure them in their choice," said sophomore Huda Syed, president of TDC.
The TDC mission statement says that the organization aims to "be the leading promoters of diversity on campus." The Women in STEM panel was just one in a series of events sponsored by TDC called the Diversity Dialogue which take place roughly once a month.