Faith Deckard has had a busy semester. She excitedly committed to being a peer tutor, track and field athlete, Young Life participant and McNair scholar, but when an unexpected curve ball was thrown her way several months ago, she stepped up to the plate and used a near-death experience to inspire herself and others.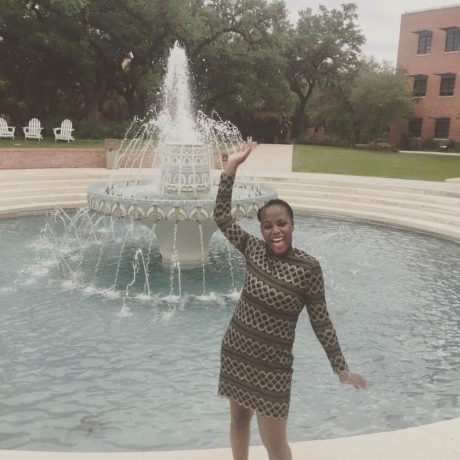 Before the turn of events that shook up her spring semester, Deckard was actively engaging in biology courses and research.
"I work in Dr. Johnson's research lab, where our specimen of choice is lizards. My individual project focuses on muscle fibers. I am hoping to find an answer at the molecular and physiological level to explain the differences that we see among lizards in behavior," Deckard said.
In fact, her research took her to the jungles of the Dominican Republic last summer.
"This past summer, a team of seven individuals went to the Dominican Republic to collect lizards and observational data. We went to the Dominican Republic because it is rich in both lizard diversity and abundance," Deckard said.
Not only did she learn about the lizards and the environment, but Deckard said she also grew closer with the team.
"The trip was … very interesting to say the least. We bonded in the jungle," Deckard said.
As Deckard continued studying the lizards with Michele Johnson, an associate professor in the biology department, the two began planning and setting goals for where their research would take them this summer.
"As a continuation of the larger project, we planned to go to Jamaica this summer. We [currently] lack three species that can be found there," Deckard said.
Following a rather unconventional process, Deckard and Johnson received an Explorer's Club Youth Activity Fund Grant to help make their goal a reality.
"These grants are very competitive. We got the due date wrong [for the application] so instead of having a month to craft the proposal, we only had a weekend," Deckard said. "Because of the time crunch, we weren't expecting to get the grant. We got it though, so Jamaica might be in my future!"
While the mistake regarding the proposal deadline made for a stressful weekend, it was nothing compared to the fear and uncertainty Deckard was about to face regarding her own health.
One day in late February, Deckard experienced a host of life-threatening symptoms that led to a terrifying night that changed her life.
"I had an irregular heartbeat, fever, chills and extended muscle spasms. I got three CT scans [and] 2 EKGs in one night [plus] high blood pressure, low white cell count, loss of appetite, dry mouth and more," Deckard said. "Separately my symptoms made sense, but together no one could figure out what it was."
Deckard's doctors were even worried that her symptoms could be signs of HIV, AIDS or lymphoma.
"[They] narrowed it down to lymphoma or lupus. Inflamed lymph nodes are a symptom of lupus, but at the time it just looked  like swollen nodes from uncontrolled cell growth "" cancer," Deckard said.
After more tests, the diagnosis was confirmed. Deckard has not one, but three different types of lupus.
"The disease effects each individual differently because we have different chemical compositions, tolerance levels and resistances," Deckard said.
The three types of lupus Deckard has attack different parts of her body.
"[I have] systemic or autoimune disease, discoid "" a skin thing "" and malar rash "" also a skin thing," Deckard said.
Though the night when her symptoms first appeared was scary and there was much uncertainty, Deckard has learned to manage her symptoms and use her diagnosis as an opportunity rather than a setback.
"I am learning to adjust. I have to slow down. Thats nearly impossible for a Trinity student. The hardest part has been trying to figure out what my new normal is. I'm different, but different is OK," Deckard said.
Deckard's optimism and positivity do not stop there. Her near- death experience inspired her to share her story with others.
"I just started writing everything down in my iPhone notepad [in the hospital]. It was therapeutic. It helped me sleep," Deckard said. "Then it became an entire memoir."
Deckard raised funds through a GoFundMe account and received enough support to have her memoir published by the company iUniverse.
"The memoir includes every prescription, diagnosis, conversation with God and Death, friends who visited, the beginning of the journey and the aftermath, while intertwining lessons learned at Trinity," Deckard said.
Deckard's book will be called "The Other Side: Former Patient to Future Doctor."
As the title suggests, Deckard's diagnosis inspired her to pursue a career as a rheumatologist, which is the kind of doctor that specializes in musculoskeletal and systemic autoimmune diseases "" including lupus. She is thankful to everyone who has helped her adjust since her diagnosis and plans to continue working hard to achieve her goals at Trinity and beyond.