Next Tuesday, April 26, several female faculty and students will perform in Trinity's annual Celebration of Women's Voices program. The showcase will include Trinity's 75-member women's choir, student dancers, composers, actors, guest speakers and a set of vocal works performed by visiting professor of voice, Jacquelyn Matava, visiting professor of voice. The event was scheduled during the month of April to commemorate National Child Abuse Prevention Month.The program was created in 2010 by Gary Seighman, director of choral activities and associate professor of music and the Trinity Women's Choir
"[The program aims to] use the power of artistic expression to embody the spirit and fortitude of women in the San Antonio area," Seighman said. "The show will include creative works all written by women, or music written to understand the female perspective as a way to make the community aware of certain issues."

The concert will support the Battered Women and Children's Shelter of San Antonio, also known as Family Violence Prevention Services. Preparation for the showcase was extensive and heavily depended on the leadership of students.
"It really embodies the idea of liberal arts," Seighman said. "There are so many different aspects of the university coming together for this program."
The showcase will feature the Trinity Women's Choir, which comprises the women of the Trinity Choir, Chamber Singers and Voix d'Esprit (French for "Voices of the Spirit"). They will be singing songs such as "It Takes a Village," based on a West African proverb. The song encompasses the themes of the entire program "" that of hope and overcoming adversity.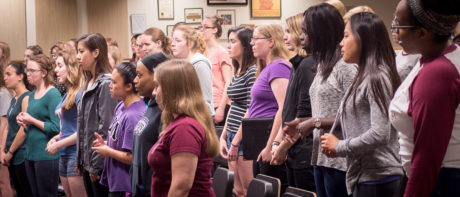 There will also be an art gallery in the Ruth Taylor lobby organized by Sonny Luna, a graduating senior fine arts major who will be performing with the women's choir and facilitating the exhibition of women artists.
"It's a showcase of creativity of talented women from all fields of art," Luna said. "We feature female writers, composers, artists, stage performers, dancers, and singers, and give them space for their voices to be heard."
Dancers, composers, actors and guest speakers will also be featured in the concert. Graduating senior Caileen Tallant, a music composition and chemistry double major, will be performing one of her own piano pieces. Additionally, Matava will perform a collection of vocal works written by women. Jenny Browne, assistant professor of English, will also be reading poetry. Browne was recently named San Antonio's 2016-2018 Poet Laureate, and is known for teaching poetry classes throughout the city. There will be student dancers in the showcase, as well as dramatic dialogues read by women from the theater and human communication departments.
Though the showcase offers free admission, attendees are encouraged to donate to Family Violence Prevention Services. The center has been in San Antonio since 1977, and the shelter's CEO, Marta Pelaez, will be in attendance at the showcase. She will be introduced by Kimberly Anderson before speaking about the shelter and how it benefits the San Antonio community. The shelter's mission statement, as given to Seighman by Pelaez, is to "break the cycle of violence and to strengthen families, by providing the necessary tools for self-sufficiency through the delivery of emergency shelter, transitional housing, education effective parenting education, and early intervention with children and youth."
"San Antonio and Trinity benefit from any sort of concert like this because societies benefit when women are empowered and the achievements of women are given the spotlight," Luna said.
The show will begin at 7:30 p.m. on Tuesday, April 26, in the Ruth Taylor Recital Hall. There is no admission fee, and all donations will benefit the Battered Women's and Children's Shelter of San Antonio.