Growth, interest spawn new housing opportunities
Trinity's expansions have led to new housing opportunities for newcomers and upperclassmen alike, with HOPE (Homeless Outreach Pursuing Education) Hall moving to Verna McLean Hall due to increased student interest and City Vista opening up for upperclassmen move-ins.

Melissa Flowers, director of residential life, describes HOPE Hall as an opportunity for students to help benefit their community through volunteer work. The hall focuses on experiential learning through consistent, substantial outreach to the homeless community in the surrounding area.

According to a 2014 press release, former student Katie Ogawa first brainstormed the idea during an Alternative Spring Break in 2011 with fellow students Shelby Seier, Paige Patrick and Leah Wesselman, later joined by Cathy Davison and Ben Whitehead. Faculty and staff aided the students in making the service-oriented hall a reality by fall of 2012.

In the 2014 press release, Ogawa said members of HOPE Hall commit to serving the homeless and to recognizing the importance of community and of all we can learn from those around us. As the only residence hall with students from all years, HOPE Hall continues to garner serious student interest for more than just its altruistic values. The hall also brings together students with similar priorities and focuses.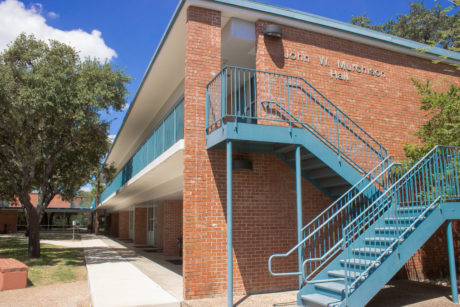 "The recurring volunteer opportunity fosters great relationships amongst students and also with those we serve," said Asmara Lehrmann, junior HOPE Hall member.  

The close-knit community promotes intimate relationships between students. Because of this, many feel bonded with those they volunteer and live with.

"I love that each of us volunteers weekly with the same group of students at the same community partner," Lehrmann said.
Many incoming and current students join Lehrmann in her interest in helping the homeless. Because of this, HOPE Hall has grown immensely from its start.

In its initial days, HOPE Hall housed roughly three dozen students, who made peanut butter sandwiches for the homeless and aided the Christian Assistance Ministry in outreach efforts. Now, HOPE Hall has moved to McLean to house the service hall's swelling numbers.

"Moving to McLean allowed the hall to expand," Flowers said.

Flowers believes that good student growth was a major factor in the project's continuing success. Retaining the close-knit atmosphere that has defined HOPE Hall since its early years while making room for more hands is one goal of the expansion.

On the student side of things, Lehrmann echoed a similar concern.

"I hope we are able to keep the intimate relationships that HOPE Hall was created for," Lehrmann said.

In addition to HOPE Hall's expansion, the purchase of the City Vista apartment complex has allowed for more space and opportunities for Trinity students. To meet the need for more single rooms, kitchens and common space outlined in Trinity's Campus Master Plan, this fall semester marks the opening of Trinity's newest housing expansion.

Flowers said students love the freedom City Vista offers, and students agree.

"I love the fact that all of the rooms are just a little different," said Madison Sawyer, a junior who lives at City Vista. "The living area is spacious, we have access to a gym, there's a grill, a pool "¦ It's wonderful."
City Vista is Trinity's first apartment complex, and the decision-making process leading up to and beyond the Aug. 1 move-in date has been guided by faculty and students. The apartment complex operates fully under Trinity's authority and is, like the main campus, monitored routinely by TUPD. However, students in City Vista do enjoy more relaxed regulations, such as the allowance of hard liquor, and meal plans are not required. Flowers has optimism for Trinity's newest expansion. Although Residential Life hasn't yet had an opportunity to assess student feedback of the fledgling project, they hope to garner some soon through a large-scale survey.

As students' needs evolve, Residential Life will continue to try to help students make the most of their college experience.
Leave a Comment