As you're running down your hall, desperately trying to make it on time to your morning class or hoping to grab your favorite Freshii bowl before the Commons closes, you can expect to pass by some of your hallmates.
Your fellow residents likely come from an abundance of backgrounds; you run into your international student suitemate and zoom past your over-eager resident advisor. However, if you're currently living in the City Vista apartment complex, or were once a resident of Dick and Peggy Prassel Hall or Bruce Thomas Hall, you might have found yourself passing by one of your non-student neighbors.
Several members of Trinity's Residential Life staff have lived in the dorms alongside students. Melissa Flowers, director of residential life, has enjoyed sharing the many benefits of living on campus with her children and husband.
"I've lived in McLean, Thomas and now City Vista. My favorite is legitimately a three-way tie; they each have special meaning to me. I first moved into McLean when I began working at Trinity in 2008. Trinity quickly became home for me," Flowers said.
It wasn't long after moving into the dorms that Flowers introduced her family to on-campus living.
"Two years later, I moved into Thomas with my husband, a Trinity alumnus. We welcomed our two children to that home. We adored it for its view of the football field, as my husband played for Trinity. Now, I am in City Vista and I adore the apartment layout and modern look. The pool also isn't half bad, and I actually really enjoy the walk to campus," Flowers said.
Because she has lived in the dorms for so long, the experience has always felt normal to Flowers.

"I've lived in campus housing for 17 years, exactly half of my life, so I don't know any better. I am so spoiled with all of the great services like TUPD and the facilities services, and I adore the proximity to such great and free entertainment with the high-caliber athletics programs, concerts, recitals, plays, speakers, you name it," Flowers said.
"Integrating my family into that life has been wonderful, and I also benefit from reliable and reasonably priced babysitters. The students have been so wonderful with my children. I am simply blessed," Flowers added.

Flowers isn't alone. Rachel Boaz, assistant director for residential education, has also enjoyed the many benefits of living on-campus both while working for ResLife and while attending Trinity as a student.

"I'm actually a Trinity alum, class of 2010, and I was on ResLife as a student, so I've lived in quite a few buildings. As a student, I lived in the old Winn, Isabel, South and Herndon. As professional staff, I lived in Heidi and Prassel. Each place has its own special qualities, but I really loved living in Prassel. My balcony overlooked Ledge Lane, and my favorite thing was to sit out there in the evenings and still be on campus, but face the "˜real world' at the same time." Boaz said.

Boaz is now living off campus, and has found herself missing living in the dorms.

"I really do miss living on campus. I met some awesome students I never would have met if I hadn't passed them in a study lounge every day," Boaz said.

Boaz lived in the dorms with her dog, Finley, who became popular amongst residents.

"When I lived in Heidi, some hot water pipes burst in the winter. Outside, it looked like the lounge filled with smoke because the air was cold enough that the water created steam. Some sweet Swashbucklers ran in, I thought to check on me. The first thing out of their mouth was: "˜Is Finley okay?!' All I could think was, "˜Thanks for your concern, y'all. I'm fine,'" Boaz said.

Recent graduates have also moved into dorms. Callum Squires, class of 2017, currently serves as one of two community liaisons for City Vista.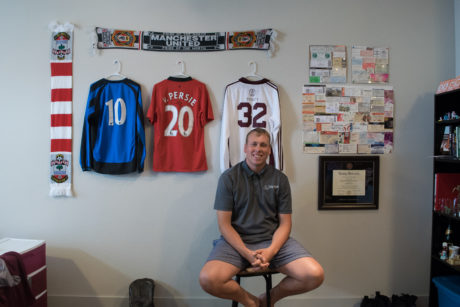 "It's a great place to live. City Vista has beautiful building with really nice apartments. The members of the management team are great and there's lots of nice little bonuses like breakfast tacos on the first day of class," Squires said.

Returning to live on campus has been a positive experience for those who have returned to live there.

"It's nice that I still know lots of the people who are living here because many of them are my friends, and I'm still with Trinity as an assistant coach with the men's soccer team. So I'm happy to still be close to campus and living in such a nice apartment," Squires said.