Trinity's dining services employees are involved in many hobbies outside of their jobs. One of them, Rogelio "Roy" Vega, is an Aramark caterer by day and an artist by night.
He started developing his skill later in life than many other artists do, but his art has improved with diligent practice.
"I started doing my art at age 35, when I got divorced from my first wife, because I wanted to keep busy," Vega said. "I did it for five months, and then quit for two years. Something told me to go back and do it again, and that time, my art got better and better."
Since his return to the craft, Vega has been incredibly prolific in his artistic output.
"I got married six years ago, and now I have 1,200 sketches. I had never sketched so much. Right now I have about 300 colored pieces that are finished," Vega said.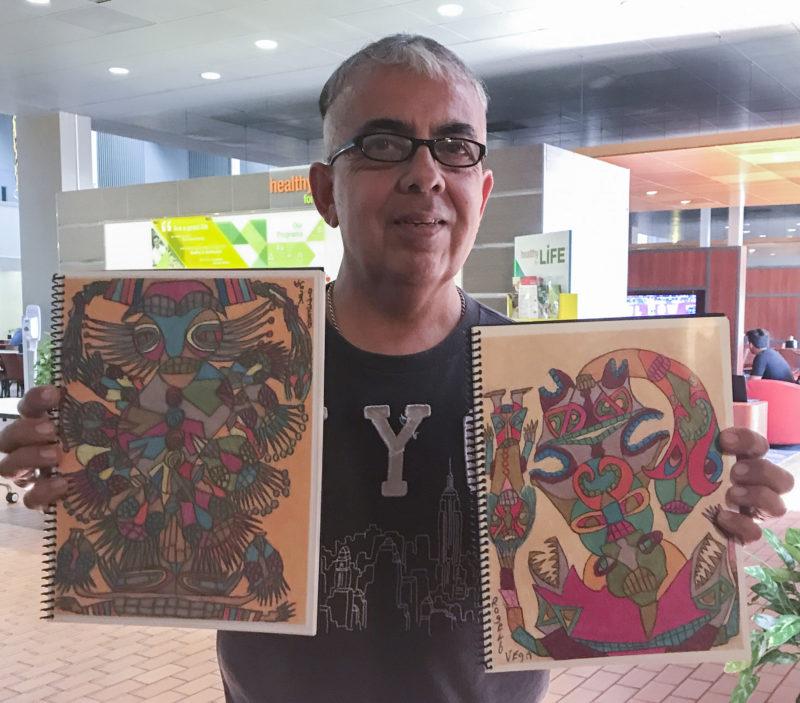 Vega's sketches are all done in pen and filled in with colored pencil. His work is available in anything as big as 22-by-28-inch posters to standard paper-sized digital prints.
"All my drawings are different, and have unique shapes and faces. I turn my drawings upside down as well, so you can look at it both ways," Vega said.
A few times a year, Vega will display his bright and colorful art at venues all around San Antonio. His favorite place to go has been the Central Market on Broadway, where he has shown his work several times.
Balancing his time between sketching and catering, Vega has still managed to grow his business and create more artworks every day.
"I go to art shows whenever I have the time. My job here is demanding, but starting this year I'm going to go part-time to concentrate more on my art," Vega said.
Vega also hopes to open an exhibit on campus, potentially in the Coates University Center. Students have asked him to show his artwork before, and he's had major success selling pieces.
"I would like to have an art exhibit here on campus. I had an art show two years ago in the Skyline [Dining Room], and I showed four tables. I did it because one student was raising money for the Battered Women's and Children's Shelter, and I gave 10 percent of whatever I sold," Vega said.
When asked what motivates him to keep producing art, Vega admits to a goal commonly held by artists.
"What keeps me going is that one day, I might become famous. I want the world to see what I do, because I haven't seen this kind of art out there right now, and I need to take it out and show it to everyone. I don't want to keep it at home and have no one see it," Vega said.
As far as advice goes for other aspiring artists, Vega hopes that they will persist in their work and keep creating content for others to see.
"Just keep doing your art, no matter what people will tell you. Some people will tell you that you'll never make it in the art world. But if you like it, keep doing it. And who knows? You might become famous one day," Vega said.
Until Vega opens an exhibit on campus, students may see him serving refreshments at gallery exhibitions in the Dicke Art Building.