Hurricane Harvey's impact on campus is undeniable. The storm devastated the Houston area the weekend of Aug. 26 as the wettest tropical storm in US history. With winds up to 130 miles per hour, it damaged over 185,000 Texas homes and dumped over 30 inches of rain, leaving an estimated 30 percent of Harris County underwater. More than 25 percent of students and about 15 percent of alumni have family in Houston or along the Texan coastline, and the families of faculty and staff are affected as well.
Kenneth Loiselle, associate professor of history, was in Houston when the storm hit.
"I did not sleep at all on Saturday night or Sunday morning but sat outside my front porch and watched the water slowly rising from the street, to my lawn and eventually to my doorstep. My wife immediately woke up our two small children, and they went to a neighbor's elevated house," Loiselle wrote in an email interview.
Loiselle remarked that his street had become riverlike due to the amount of water that had flooded the area.
"I remained at home raising all the furniture on bricks "" most of which was saved "" and by 8 a.m., I went back outside and saw water just everywhere," Loiselle wrote."It looked like a river. People's cars were turned over, people were in canoes, rafts and even an airboat "" the type you find in the Everglades with a big fan in the back "" rescuing elderly people."
Loiselle described deaths and looting in his neighborhood, but he also reports acts of humanity and generosity. On Aug. 28, the Washington Post shared a video uploaded to Facebook depicting Loiselle rescuing neighbors from flooded homes.
"Neighbors who had little to no contact with each other previously bonded together to help rescue folks. Two other neighbors and myself rescued an elderly couple," Loiselle wrote. "We even had, on Sunday night in the darkness of no electricity, a piano concert at my neighbor's house, where I stayed for an entire week. While our house is being repaired, we are staying at a complete stranger's house who offered his garage apartment free of charge to us for two months."
On campus, Gary Neal, director of counseling services, and university chaplain Stephen Nickle organized a support group for students affected by the storm. The group met on Aug. 30.
"At this point, it's kind of making contact, monitoring, offering support "" making sure people know about the help that's available," Neal said. "Even students whose homes didn't flood are affected by this, whether it is just a reminder of their vulnerability and the vulnerability of their families."
Five students attended the support group, which Neal and Nickle will continue to hold weekly for as long as there is need.
"The primary benefit is the opportunity to share similar experiences, similar feelings with other individuals who have closely related experience. Everybody's experience is going to be unique in its own ways, but it's a chance to talk to others who have experienced something similar," Neal said.
Nickle pointed out more benefits of attending a support group.
"Sometimes venting can be a helpful thing. It's not that venting is productive, but it lets off some of the stuff," Nickle said."All this chaos is going on, and at the same time, class is still in, and you've got assignments, and there's this weird disjuncture between life as normal, which is going on all around us, and this alternate reality back home. If you're not there, your imagination can go 18 different ways."
Even if a support group is not the right coping mechanism for some students, Nickle recommends that they still seek support from the Trinity community.
"Don't isolate. There are people who care about the fact that you are struggling. Ask for help," Nickle said.
Neal notes that while counseling services has not seen an uptick in new clients due to hurricane-related stresses, that doesn't mean that Trinity students are not looking for support or finding other therapeutic outlets, for instance volunteering.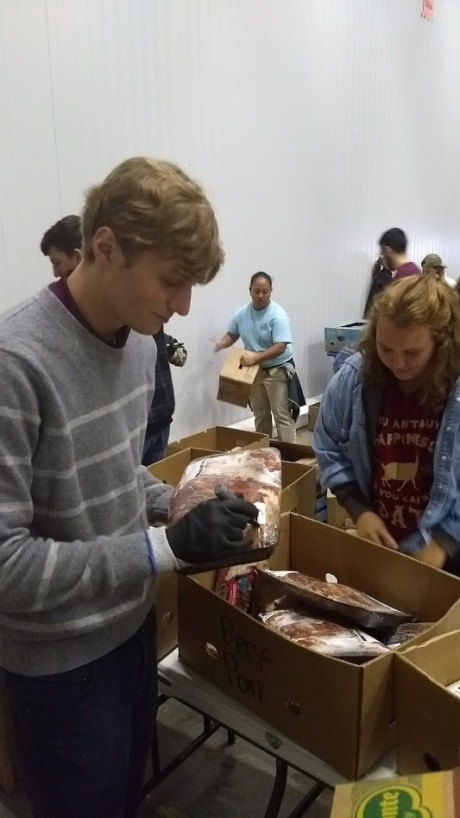 "At least one of the students who attended the group talked about volunteering. He went home to Houston and he already signed up to volunteer at the convention center, which is a large shelter now. It didn't surprise me, in a way. That's the spirit of Trinity students in general: a proactive response to a situation, a natural disaster that could easily be overwhelming," Neal said. "That is the kind of proactive response that we all feel we need to do, because we are reminded of our powerlessness, so being able to do anything is an adaptive and resilient response."
Multiple Trinity organizations have organized fundraisers for Harvey relief, such as donation drives formed by the Student Government Association and Trinity University Volunteer Action Community, as well as a benefit concert hosted by Iota Chi Rho and Sigma Theta Tau at Big Bob's Burgers on Wednesday, Sept. 6.
Trinity senior Mackenzie Hill was one of many Trinity students whose home and family were directly impacted by Hurricane Harvey.
"My mother's home got anywhere from 12 to 18 inches of water. My mother was forced to leave our house the day after Harvey hit and find shelter in a neighbor's second story. My neighborhood lost power for several days, and my mother was trapped until early the week following the worst part of the storm. Now, my mother has managed to find a new home, but much of our furniture and belongings were destroyed," Hill said.
The hardest part for Hill has been the feeling of helplessness as she waits for news from Houston, 200 miles away.
"My mom is an incredibly strong woman, but the idea of her cold, wet and alone without power for several days was terrible. It made going to class feel meaningless, as there were so many other important things going on that seemed more worthy of my attention and emotion," Hill said.
Hill was able to find support from the Trinity community, and advises that students watch out for each other when such traumatic events occur.
"I am really appreciative to Trinity for having created an event like that for students. I know a lot of students and faculty have also taken it upon themselves to offer help to people in Houston, whether through fundraisers or volunteering," Hill said. "Honestly, just reaching out and checking in with those you know are from Houston and may or may not have been affected. Kindness is so appreciated at this point in time. Additionally, if you can make it down to Houston and help the families of people you know clean out their homes and assist in starting over, a lot of people just need extra hands."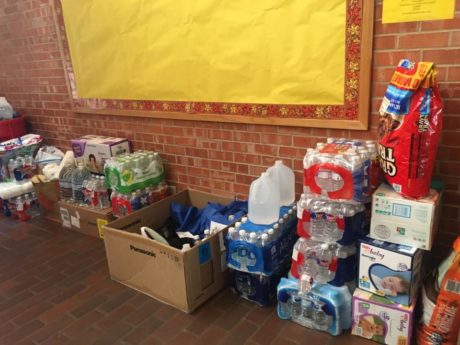 Loiselle also had words of advice for Trinity students.
"I think the best thing a Trinity student can do right now is to try to get back to normal and proceed with the incredible intellectual journey that is this university. I was in Connecticut after September 11, 2001, and people were literally dazed and confused for weeks after this tragedy," Loiselle wrote. "Harvey is a similar circumstance in terms of the psychological impact it has had on people."
Loiselle suggested that the smartest way to grow beyond events of tragedy is to think of the importance of fields of study that help in such situations.
"I would also recommend that students seriously consider entering fields "" like civil engineering, among others "" that can help cities like Houston build in a more responsible manner in order to avoid or at least mitigate such devastation in the future," Loiselle wrote.
Those interested in supporting victims of Hurricane Harvey can visit Trinity's Emergency Notifications webpage at new.trinity.edu/emergency.