Trinity students staged a teach-in to oppose Senate Bill 4, or SB4, which is more commonly known as the "˜show me your papers' bill. The event was held on Friday, Sep. 1, the same day the bill was supposed to go into effect statewide. Emily Bourgeois, sophomore English major, organized the event alongside Judith Norman, assistant professor of philosophy, to show that Trinity students stand against discrimination.
"A lot of students are using it as a national day of action, so there are protests, walkouts, being planned for that day," Bourgeois said in an interview prior to the event. "I had been following SB4 because of my summer internship at the Esperanza Center, so I thought it was really important for Trinity students to get involved somehow, but I also thought that as a campus, it's more important for us to be knowledgeable about what the policy is and how it's going to directly impact us."
The event took place in the Coates University Center common area at 3 p.m. and attracted a crowd of about 50 people who stayed for the entire event. Bourgeois chose this location so passers-by would see the teach-in happening and stop to listen. She noted that, even if people just listened for a small period of time, it could still make a big difference in their understanding of this specific subject.
"What we're doing is called a teach-in," Bourgeois said. "It's a form of protest where you take over a space, usually transient, so we're taking over Coates and bringing in a couple guest speakers and student speakers, and we're just going to learn about what SB4 is, how specifically it's going to affect students, and how students can be good allies to Latinx students."
Some larger schools, such as University of Texas at Austin and University of Texas at San Antonio, also held protests, according to Bourgeois. While useful in their own ways, organizers of this event wished to do something a little different. Instead of protesting, five guest speakers were brought in to discuss how SB4 will directly impact Trinity's campus.
"Show me your papers bill originally didn't allow for officials to speak out against this bill; if a police officer doesn't want to comply with it, they could be fired, fined or in jail," said Tessi Aguirre, a volunteer coordinator at the Refugee and Immigrant Center for Education and Legal Services (RAICES). "College campuses are not protected under this law. At any time, they could ask for your papers."
While the original piece of legislation was much harsher, activists from around the city, including many from RAICES, put forth a lawsuit against the legislation. While some parts of the bill passed, others didn't. One of these changes is the ability to decline to answer if questioned by police.
"Allies should empathize. Don't provide your fingerprints even if you are documented. If you do, then that singles undocumented people out, but if you don't, that's a form of solidarity," Aguirre said. "We're doing training workshops for how to give "˜know your rights' presentations "¦ We want to spread facts, not fear."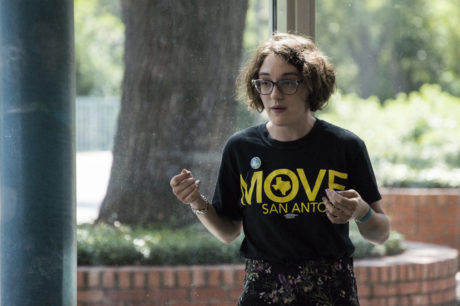 Much of the event emphasized the role of allies in providing support to those who will be directly affected by the legislation.
"We want to educate the people about why SB4 is important to students, and why it's a community effort. We don't want marginalized people to be hurt because of a racist law," said Andrea Fernandez, a fellow at MOVE San Antonio, an organization that makes politics more accessible for young people. "We want people to voice their concerns; social media works and pushback can be helpful, like the responses from Elizabeth Warren, Bernie Sanders and the Castro brothers."
In addition to speaking out against the legislation, advocates "" such as Chiara Pride, fellow at MOVE and activist chair of PRIDE, and Daniela Montàºfar Soria, president of the International Humanitarian Crisis Initiative (IHCI) "" ask allies to listen to people's stories and concerns. This bill jeopardizes many students, their families and friends. Being open and just listening can go a long way in providing support.
"As an ally, my job is to listen to people, and from that knowledge, do my best to share that and help," Pride said.
The teach-in lasted approximately an hour, ending with a testimony from Cristian Vargas, a senior biology major. In addition to offering up words of encouragement for members of the Latinx community, he reiterated the necessity for action.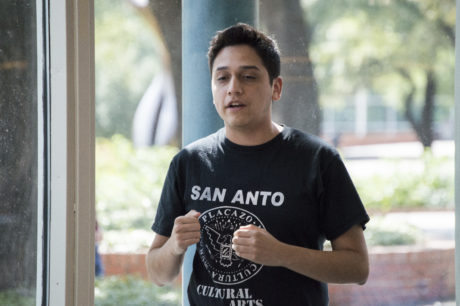 "Arizona tried the same thing with Senate Bill 70, and essentially had a show me your papers, and that was upheld by the Supreme Court. Obviously, discrimination like this is legal, and institutionalized," Vargas said. "Don't just stay in your ivory tower "" get out and engage the state around you."
Though the progress of the bill was halted, it is still necessary to spread awareness and support of the bill's opposition. For those interested in supporting these efforts, RAICES offers "˜know your rights' training events and welcomes volunteers to reach out.