On Sept. 5, President Trump announced that he would rescind the Deferred Action For Childhood Arrivals (DACA) program in six months. In response, Danny Anderson, university president, announced his support for policies that protect DACA recipients, and student groups have begun a conversation about Trump's decision.
The program allows immigrants who arrived in the United States illegally as children to live, work and go to school without fear of deportation. Following Trump's announcement, many students and faculty on campus expressed concern for the roughly 800,000 young adults who will be eligible for deportation by April of 2018.
"The basic notion, of course, is that, if you are here illegally, the country can deport you, but there have been people who were brought here as children or at a young age and have no memory of their country. They don't speak the language," said David Crockett, professor of political science.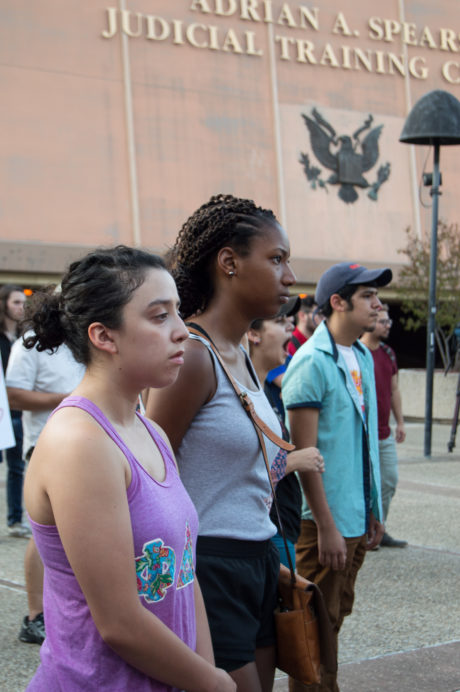 DACA was created by an executive order during the Obama administration. Because of this, some criticize it for not offering a permanent solution to its recipients, though it did offer them temporary security from deportation.
"It doesn't give the target population a lot of long-term stability and security in their status. It was always dependent on Hillary Clinton winning the election. You don't want a policy to be contingent on the whims of American voters," Crockett said.
The university has maintained the privacy of its students, whether they are DACA recipients or not. Multiple Trinitonian reporters reached out to campus administrators including Sheryl Tynes, vice president for student life, and Eric Maloof, vice president for enrollment engagement. In separate email conversations, both Tynes and Maloof offered the following university statement:
"The Trinity community supports the fundamental values of belonging and inclusion and offers our support for DACA and these individuals who are part of the fabric of college life across the United States. Trinity does not speak publicly about the status of individual students or share other detailed information.  We are true to our practices of treating our students in caring ways and support individuals in our community who feel vulnerable or unsafe."
When asked about how DACA's repeal would affect the policies and procedures of TUPD, Paul Chapa, chief of police, offered only this:
"TUPD will not be impacted by any action taken regarding DACA."
Students responded quickly to the DACA rescission. The International Humanitarian Crisis Initiative (IHCI) teamed up with Trinity Progressives and Trinity Diversity Connection to spread awareness on campus. The groups tabled in Coates this Wednesday and Thursday to urge passers-by to call their representatives.
"The reason we're doing the "˜Call Your Reps' is we want to rally and inform and make statements, but we also want to have an impact. Because DACA is a federal policy, we need to make sure we're reaching for impact on the federal level, and the best way to do that is contacting your representatives," said Aubrey Parke, sophomore and volunteer coordinator of IHCI.
Parke said that getting in touch with the politicians who are elected to share your voice is the best way to ensure that DACA protections become permanent.
"It's not helpful if you have five people calling, but what we're going to be doing at the tables is looking up people's districts, so they're calling their representatives and say[ing] that they're actually a voting constituent," Parke said. "It is impactful if you can get large enough numbers of calls, at a high enough volume that shows it's actually important to voters. It's a strength-in-numbers kind of thing."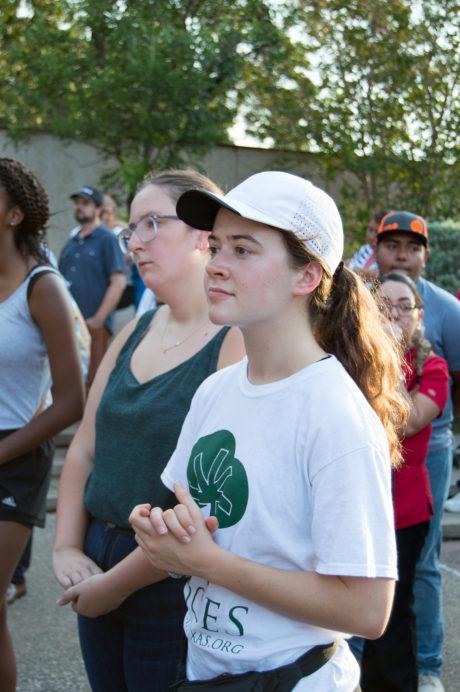 Parke urges students to stop by the table or call representatives on their own time and to question whether or not they think this issue is important to them.
"This is something that we can change. We just have to be diligent and be perseverant. I think it's a good enough reason, if there's something good that you can do, that in and of itself is a good reason to take action no matter what your age," Parke said.
Corinne Pache, professor of classical studies, appreciates the responsibility that many students have undertaken to spread awareness and become more connected, not only with the Trinity community, but the San Antonio community as well.
"I've never seen the students as engaged in the political process as they have been in the past few months," Pache said. "I have a feeling that students used to be a little disconnected, both from the political situation in the country but also from our surroundings, but I think that's changing."
Judith Norman, professor of philosophy, agrees that the future belongs more to students, who still have the opportunity to mold it and to take advantage of their privilege to affect it positively.
"It's not just our voice; it's also our ears. Because Trinity students are not necessarily in the front lines of people being impacted, because I think for a majority of students, the question isn't "˜How can I protect my own?' but "˜How can I help others?' The first step is to listen," Norman said.
Although many progressive groups on campus are being outspoken about this topic on campus, they're not the only ones. Tigers for Liberty (TFL) met on Tuesday to listen to George Rodriguez, an immigration lawyer, explain the benefits of the DACA repeal.
Maddie D'iorio, a first-year TFL member, attended the meeting and expressed her support of open discourse on campus.
"I think [discourse] is really important, especially when people have opposing views, they are not able to express those viewpoints, and it's really easy to say what you view. People might get offended or get mad at you," D'iorio said. "Understanding different viewpoints is the entire point of going to college."
Some students defend Trump's repeal of the program. First-year TFL member Emma McMahan explained how the defense of DACA revolves around its fairness to others.
"People who support DACA say we need to put morality into it, but conservatives do put morality into it, it's just a different kind of morality," McMahan said. "So, they talk about fairness, that it's not fair for kids who don't choose to come here. But it's also not fair that we're paying our tax money to support an illegal immigrant."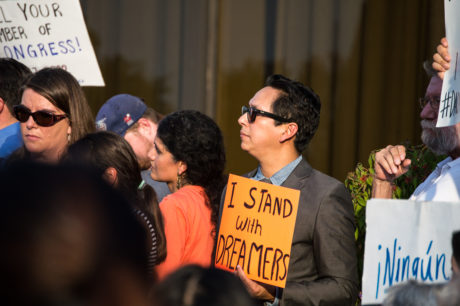 Crockett hopes students will overcome their differences and discuss the policy and the importance of the separation of powers in our constitutional system.
"It's very easy for people to quickly divide up into competing tribes that are pro- or anti-Trump," Crockett said. "And on the anti-Trump side, it's very easy to quickly default to saying he's a racist xenophobe, and I don't think that's helpful for the conversation."
For those interested in supporting DACA, contact [email protected], or visit raicestexas.org. For those interested in discussing the opposing view or for those looking for more information about TFL, email [email protected].
Correction: This article originally stated that the TFL guest speaker, George Rodriguez, spoke about the benefits of DACA.