By 6 p.m. last Thursday, the community garden by Storch was buzzing with students. The Trinity Bee Alliance and the Trinity University Community Garden teamed up for "Pollinator Night at the Garden," with the intention of drawing awareness to nocturnal creatures, such as bats and moths, that play an important role in the campus environment.
"We specifically wanted to talk about other pollinators that aren't really seen as much as butterflies and bees are. Bats, moths and beetles are all very important pollinators," said Abbi Bowen, sophomore and president of the Trinity Bee Alliance.
Much of the foliage on Trinity's campus is supported by these nocturnal insects. Olivia Roybal, junior and garden director, spoke about the benefits that unseen nighttime pollinators bring to one species of tree on campus.
"There's actually, in one of the intro biology labs, a data collection project they do every year on Texas mountain laurels. Something interesting that they're finding is that it looks like a majority of the pollination and nectar release happens at night, and they haven't really identified which potential pollinators that could be, but it would probably be some kind of moth," Roybal said.
The evening was also informative for students unfamiliar with the Trinity Bee Alliance and its mission. Hearing about the bee colonies on top of the Center for Sciences and Innovation (CSI) was enough to arouse the interest of Collin McGrath, a junior who was at the event.
"Keeping bees on top of CSI is pretty interesting; I think I might join. I've always been pretty fascinated with insects. I think they're very neat," McGrath said.
Malcolm Fox, sophomore member of the Trinity Bee Alliance, hopes that McGrath and others who haven't had experience with the campus bees take the opportunity provided by the Bee Alliance.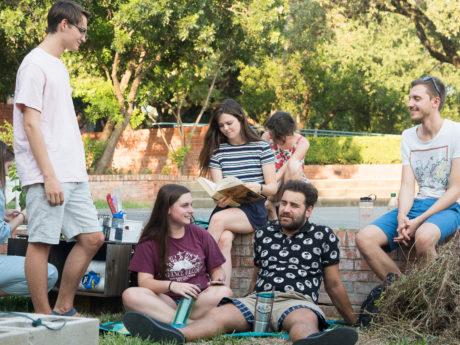 "A lot of people know of the bees, and it's kind of like a little local legend on campus. I think that it's really important to have that kind of activity and for people to go and experience it. It allows you to see into this ecosystem that we don't always get to be a part of as college students," Fox said.
For those more familiar with the organization, the event was an opportunity to bond with other people who care about environmental issues.
"Aside from all the lovely educational and fun activities, I think the most important part of this is just everybody seeing each other and seeing that they have the same interest in this organization is really cool," said Philip Trenthem, sophomore and member of the Trinity Bee Alliance.
Trenthem explains that the Trinity Bee Alliance supplies more than just a friendly community on campus.
"The bees help all the flowers here, but they also are kind of symbolic that this university does really care about the environment and about pollinators. There are only two hives, so we're not running a huge operation, but the gesture that they're there and that there's a lot of people looking out for them is really cool," Trenthem said.
Roybal emphasized that the bees aren't the only important pollinators on campus.
"There are a lot of native plants that have, probably, their own respective native pollinators that we just don't know that much about because they're not as studied. Native pollinators face the same threats that European honey bees face it terms of pesticides, but also, habitat fragmentation. Those native pollinators could just be moths or bats. Bats are a pollinator that people don't really think about that are really cool, especially in Texas," Roybal said. "So many of the plants that we know and love, beyond food, depend on pollinators. Even though we don't see the pollinators, our actions affect them. If you love the way Trinity's campus looks, you probably love the plants, which means that you also, at least indirectly, love the pollinators."
For more information on the Trinity Bee Alliance, contact president Abbi Bowen, or like the Trinity Bee Alliance page on Facebook.