A group of Trinity geology majors led by Daniel Lehrmann, the Gertrude and Walter Pyron Professor of the geosciences department, recently attended the fourth annual Texas Hydro-Geo Workshop at the Cave Without a Name, which is located about 40 miles north of San Antonio.
The weekend-long event featured seminars hosted by specialists in a wide array of topics pertaining to geoscience and geoscience technology and was made possible by the owner of Cave Without a Name, Tom Summers.
"Cave Without a Name is just a beautiful cave, and it has a nice campground. The owner of the property was really kind to the group that composed the workshop. He allowed us to camp there and hold the workshop on his property with no charge," Lehrmann said.
Cave Without a Name is a karst cave, one of the more common types of caves in San Antonio. Karst caves are important to the Edwards Aquifer, which made this weekend especially relevant to members of the group interested in hydrogeology.
"Karst caves are geomorphic, land-surface or subsurface features that are formed by dissolution of limestone. It's extremely important to San Antonio because we have something called the Edwards Aquifer, and without it, we wouldn't be here," Lehrmann said.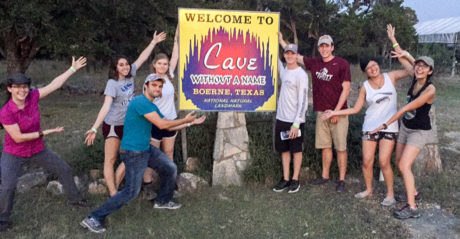 Sophomore group member Katherine Jones appreciated the specialists who shared their expertise regarding karst caves.
"In the morning I went on a tour of the cave that was led by this guy who is a karst expert and who actually did his dissertation, in part, on the cave," Jones said. "He talked about things he could discern from the different cave formations. You could look at different things on the wall and figure out which way the water in the aquifer was flowing, or you could look at the stalagmites and figure out how old the cave is."
Sophomore geoscience major Malisse Lummus, who plans to go into hydrogeology, attended a class in which she learned how to track water flow through the limestone of the Edwards Aquifer.
"My favorite class was karst tracer testing in aquifers. We learned that they put dye into the water, and it goes through the aquifer and comes out in a different spot," Lummus said. "It's really important, because with the kind of geology the San Antonio area has, the groundwater doesn't follow the flow of the topography. It has its own special kind of way of flowing underground, just because of the type of rock there is. So, there's no way to know where the water is going to go unless you trace it."
The guided tour of the cave and demonstration of techniques used to track the complicated flow of underground water were part of over 30 modules on various aspects of geology. These modules provided valuable training and hands-on experience in the many subfields that fall under the umbrella term geosciences.
"In geoscience there's multiple different disciplines. There's sedimentary geology oriented towards the oil industry. There are areas of structural geology "" igneous, metamorphic geology, geophysics, some of these things that are orientated towards deep processes in the earth, like magmas and volcanoes. You name it, there's all different areas," Lehrmann said. "As far as I'm concerned, the most important thing about this is that we get the students to see examples of the diversity of geology and areas of geology that are marketable. All of our undergraduate students are kind of exploring and trying to figure out what would be the area they would want to go into as a career path."
Students who are still deciding which of these areas to specialize in walked away from this weekend with a better idea of where their interests lie.
"I don't know what area I want to go into yet, but this certainly made hydrogeology look like a very rich, interesting and important field of study, so I'm really glad I went," Jones said.
Cave Without a Name is open to the public.