Trinity University continued to celebrate Latinx Heritage Month with a Thursday, Oct. 5 presentation in the Chapman Center's Great Hall by Bà¡rbara Renaud Gonzà¡lez, a freelance writer, journalist and activist. With a fierce but charming energy, Gonzà¡lez not only read passages from her new book, "Las Nalgas de JLo" (The Buttocks of J. Lo), but also taught the audience of over a hundred people powerful, and often controversial, lessons about the world and how to live happily in it.
A Tejana, Gonzà¡lez was born in South Texas, but she grew up in the Panhandle under the care of a loving mother and alongside seven younger siblings. As she describes, things were never easy for her family, but with the help of her mother, Gonzà¡lez persevered. She received a Bachelor of Arts degree at the University of Texas Rio Grande Valley and a master's degree at the University of Michigan at Ann Arbor.
After working in Washington, D.C. for some time, Gonzà¡lez returned to Texas to work for about five years at San Antonio Express-News, where she wrote for a column that would go on to house the majority of her short stories. Now working on a children's book series about Texan heroes and an adult fairy tale about a girl who can create rain, Gonzà¡lez stopped by Trinity to give a presentation called "Get Woke. Join the Global Tribe," which she presented specially for us and other colleges in San Antonio, reading passages from "Las Nalgas de JLo," a collection of her stories from 1995″"2005.
Ironically, Gonzà¡lez began by reading her book's afterword. As she said herself, "We'll begin at the end, because the ending "" in my case, or as I understand it "" can also be a new beginning."
The afterword, written on Dec. 2, 2016, speaks in retaliation to the changing political climate currently happening. In it, Gonzà¡lez expresses her concern with the recent election based on statements Donald Trump has made. She spoke of how her mother "" the primary source of her determination "" crossed the Mexican border herself in order to give her family a better life. She knew that America was full of hardships, but she wanted Gonzà¡lez and her other children to have choices in life "" some of which may no longer be a reality in today's world. It was an emotional way to start the presentation, but things only ramped up from there.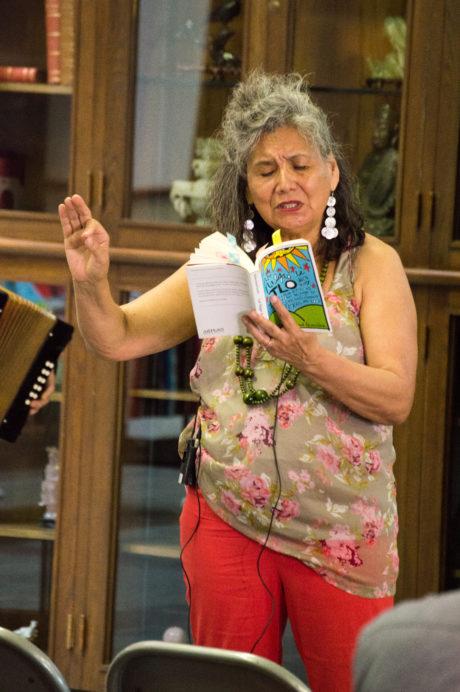 After referring to her mother, Gonzà¡lez informed the audience that her mother, Marina, passed away on Oct. 6, 2000, shortly before Gonzà¡lez had to take a trip to Chile. And in her next story, "I Am My Mother's Hopes … And Fears," written on May 12, 1996, she details just how traumatic the experience of traveling to America was for Marina.
"When my mother crossed the border in search of a better life, she didn't realize what she had done," Gonzà¡lez read. "She says that if she were to do it all over, she would have left my father in her 30s."
In other words, Marina wanted a better life for her family, but only Gonzà¡lez kept her promise. Out of her eight children, one son died. Another received a life sentence. One daughter is a redeemed prostitute and another struggles with her sexuality. They are not what she expected them to be "" and as she reflected on this, Gonzà¡lez was almost brought to tears.
But it was at this point that Gonzà¡lez tackled perhaps the most controversial story that she told that day, "A Nation Addicted," written on March 23, 1997. In it, Gonzà¡lez identifies the root of all her family's problems: drugs.
Her brother Carlos had died from chronic substance abuse. The brother who was in prison, Jorge, was there due to a cocaine addiction. And the prostitute sister, Leticia, used heroin while on the job. Even though Gonzà¡lez has never used drugs, what she suggested was shocking.
She said that it was all America's fault, since few Mexicans actually use drugs; it's the Americans who constantly buy them. And to counter it, she said that we need to legalize drugs, because trying to terminate them in the war on drugs will cause an even bigger defeat than we experienced in Vietnam. Speechless, the audience did not applaud.
"Kinda quiet, huh? Haha "" too quiet."
After a few more stories elaborating on the differences between American culture and the cultures of its neighbors, she came to the titular "Las Nalgas de JLo", which she wrote on Aug. 17, 2004. In the story she described the nalgas, or buttocks, of Jennifer Lopez. In her view, everyone fantasizes about them.
But all people have them. What makes J. Lo's so special? Why did hers have to be sexualized? People are certainly more than their appearances "" and that was the point of the whole book. The title may be promiscuous, but its context speaks miles.