The Trinity Symphony Orchestra will fill the Ruth Taylor Recital Hall with their fall concert, "Tableaux, an Evening of French Music," this Halloween. Selections include the music of Debussy, Stravinsky and Ravel with vocal collaborations and string solos. Besides getting the chance to see Trinity friends perform live on stage, the orchestra provides beautifully executed classical music from the comfort of our own campus concert hall.
No one is more excited than the musicians themselves. Allison Hill, a junior neuroscience major and cellist, believes there's something very special about this performance.
"It features the finalist from last semester's Concerto Competition, Natalie Rochen. She's performing this beautiful piece for harp and orchestra "" Debussy's "˜Danse Sacrée et Danse Profane.' It's not very often you get to see a harp front and center, and her performance is absolutely dazzling," Hill said.
"The piece I'm most excited to play is the Berceuse and Finale from Stravinsky's "˜Firebird Suite' because it's so high-energy and it has a lot of fun sound effects, like false harmonics that result in a really surreal sound," Hill said.
David Clark, a sophomore mathematics and French double major and bassoonist, is equally fond of the French selections and the feelings he gets while on stage.
"It's a close tie between Debussy's "˜Festivals from Nocturnes' and Ravel's "˜Mother Goose Suite,'" Clark said. "I have always found that there is an unparalleled elation in musical performance. Nothing can compare to the profound satisfaction that fills me when everything locks in just right among the members of the orchestra."
Hill has her own favorite moment in the performance.
"The best part about performing is that instant right after the final chord of a piece where the sound has just enough time to fill the hall before the audience reacts," Hill said.
If you're looking to do something outside of the norm Halloween night, keep the Trinity Symphony Orchestra in mind. Besides a calmer night, audience members will be treated to the start of a robust lineup of Trinity talent.
"In general, our concerts feature a variety of repertoire and collaboration with other musicians within the music department, so everyone's bound to experience something at our performances that will resonate with them "" whether they're a vocalist, instrumentalist or a general lover of music," Hill said.
Clark has high hopes for the student orchestra's season.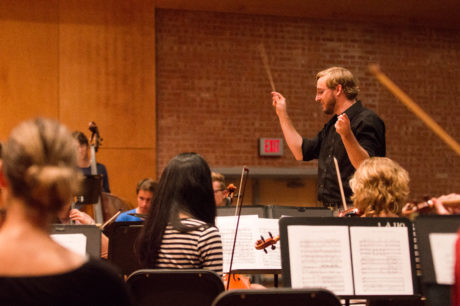 "The orchestra is on a really good trajectory for this year! Our director, Dr. [Joseph] Kneer, is doing some great things with the orchestra program on campus," Clark said.
Every December, musicians and singers collaborate on Trinity's annual Christmas Concert, which brings all of the season's most catchy tunes to Laurie Auditorium. On deck for the orchestra's spring schedule are some of classical music's most popular and difficult arrangements. In February, they will tackle Haydn's "Creation" with the Trinity Choir and select alumni in tow. Come April, they will perform "The Barber of Seville" and "The Pines of Rome."
"Tableaux, an Evening of French Music" will be performed on Oct. 31 at 7:30 p.m. in the Ruth Taylor Recital Hall.