Learning lessons from Spanish immigration
Hispanic Heritage Month is celebrated from Sept. 15 to Oct. 15. I'm excited to hear about the events that Trinity's own Trinity University Latino Association and Mexico, the Americas, and Spain program have organized (among other great clubs and organizations), but I am sad that I won't be able to participate in any of them. To contribute to Hispanic Heritage Month, I decided to research the Latinx population in Spain.
Studies done by the European Statistical Office show that Spain nationalized the most non-Europeans of any European Union country in 2014. Many of these immigrants can be traced to Latin America. Among the millions of Latinxs who immigrate, Spain has the second-highest population of immigrants, after the United States, according to Spanish news website El Paà­s. How did Spain become the next best place for migrants to migrate?
Due to the harsh dictatorship from 1939 to 1975, and the ensuing economic downfall, immigration has only risen exponentially in the last two decades. As a whole, it has not been long enough for hateful rhetoric to really develop to affect immigration rates.
Second, during Francisco Franco's regime, many Spaniards left their homeland in search of democracy and freedom. Recent Spanish history opens the minds of Spaniards today, and has created a greater tolerance and empathy for immigrants.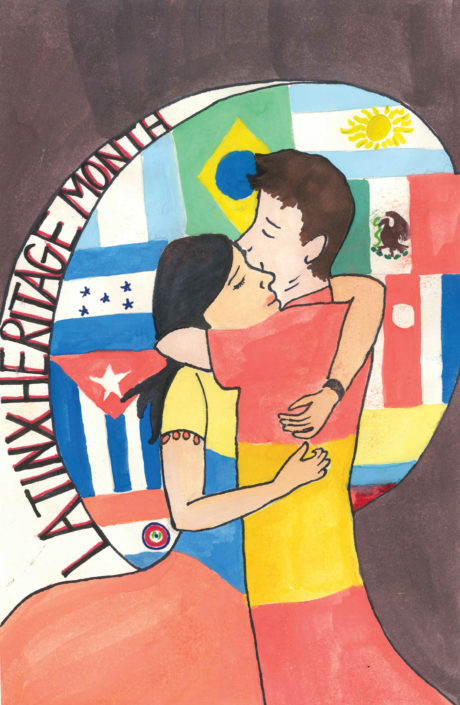 Finally, the tainted idea of patriotism that is used in the United States' hateful rhetoric against immigration is not seen in Spain because of Franco's nationalist regime. Spaniards don't walk up to people speaking another language and say, "Està¡s en Espaà±a ahora, habla castellano!"
Spain's economy is far from booming, though. As of April 2017, the national unemployment rate in Spain is 17.6 percent, which is incredibly high for a developed country. Among Ecuadorians in Spain, the unemployment rate is a whopping 31 percent. When it's already hard to get a job in your country while being a natural-born citizen, it's doubly hard when you're a naturalized citizen.
In Fermin Vivanco and Rebecca Rouse's article, "Latin American Emigrants in Spain: a Future in the Air," the authors describe the situation that Latinx immigrants face as unpredictable. Many of them have to rely on unskilled and low-wage jobs, such as domestic work, restaurant service and elderly care. The authors also note that while 86 percent of Latin American immigrants in Spain have bank accounts, only 32 percent are used as savings accounts. Also, while 78 percent of Spain's general population owns houses, only 12 percent of Latinx migrants do. These numbers are disheartening, and show the struggle they face every day.
However, Spain still provides as much as it can for its immigrant population. Jerome Socolovsky in his NPR article, "Many Latin American Immigrants Opting for Spain," explains the many different organizations and enterprises being targeted towards Latinx migrant workers.
"Experts say one of the main reasons [Latin American emigrants choose Europe over the United States] is the emergence of an entire industry of financial services catering to immigrants," Socolovsky writes.
Many Latin Americans in Spain come specifically to work and send money back to their families. To help facilitate this practice, several creative enterprises have begun to pop up in major cities. Many shops have a system where customers pay for appliances and later have them delivered to an address in their home country. One company is testing ATMs that make it possible to pay for groceries, medical treatments or cell phones in a Latin American country. Mundocredit, a branch of one of Spain's largest banks, caters directly to immigrants and offers no-commission money transfers to Latin America. They also provide the option of getting a mortgage in Spain for a home in Latin America.
Latin American immigrants have made their home in Spain. Spain welcomes them with open arms, but can only do so much for this growing population in the face of its own economic crisis. In the meantime, everyone works together to bring Spain to where it wants to be.
Leave a Comment