It was a cool 65 degrees fahrenheit as I entered the Parker Chapel. The aisles next to me were sparsely filled with people of all ages, and a couple of younger kids squirmed in their seats as their parents settled in for the performance. I truly had no idea what to expect from the most recent guest of the Parker Chapel Recital Series, Jean-Baptiste Robin, a highly distinguished French organist.
Robin's accomplishments include a 2010 appointment as organist at the Royal Chapel at the Palace of Versailles, appointment as professor of organ at the Conservatory of Versailles, an artist-in-residence at Yale University. He is renowned worldwide for his playing and composition, with 40 solo compositions to his name.
After reading this information in the program given to me as I entered, I anxiously waited to hear this world-renowned musician. After a brief introduction, Robin took his seat at the organ. He paused, adjusting the knobs and levers on the massive piano-esque device, and then began to play.
This was the first time I had ever attended an organ concert and was the first time to my knowledge I had ever heard an organ, so the initial few notes were quite shocking. The sound of the instrument engulfed the entire room, as if a massive gale had erupted from the center of the church. Each note rang in my ears and seemed to inhabit and pass right through. It was undoubtedly the most powerful mixture of sounds I have ever heard.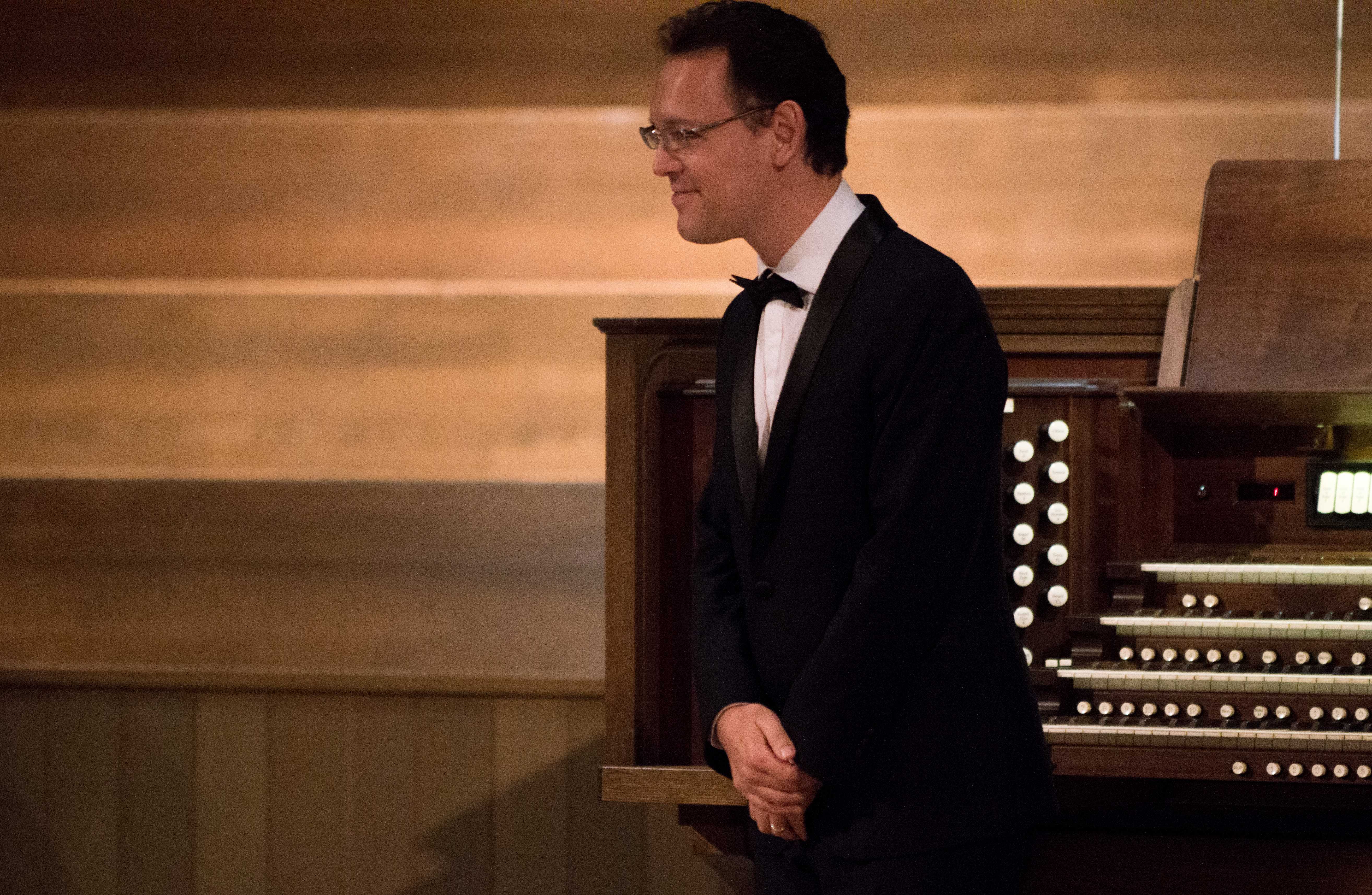 Robin's first three pieces were from more well-known composers. After his beginning set he then played another three pieces and explained to us afterward that they were reconstituted piano pieces from the well-known composer Frédéric Chopin. They each contributed to a massive change in tone from his first pieces, less dominating in their volume and softer, much more like a piano. The music seemed to flow through the aisles, slowly drifting to each of the viewers. These were my favorite parts of the recital, which lasted rather longer than expected at an hour and 50 minutes.
These rewritten pieces came and went and then Robin moved on to play the audience a tune from a very well-known movie, Disney's animated classic "Beauty and the Beast." He talked at length about the piece's heavy influence on the classic film and then that soundtrack's heavy influence on Disney films for years to come. While I remember the original "Beauty and the Beast" piece being a tad softer and not as powerful as his rendition, the likeness was noticeable.
While the night was enjoyable, one aspect that was disheartening was the lack of Trinity students present at the recital. Now, while organ music isn't as easy to enjoy as maybe jazz or choir, it is no less important. Robin is a world-famous organist, on the same level with Yo-Yo Ma and Maynard Ferguson in terms of achievement and progression in their respective crafts. And while Trinity students do lead busy lives and do need their time to relax, I can imagine no better place to do so than in the beautiful aisles of the Parker Chapel, listening to a world-class musician display his mastery of a very complex instrument. An appreciation of the arts and performances shouldn't go without regard, and it could lead to a better appreciation for what this school has to offer.