"This has been pleasant and all," I thought to myself, "but it doesn't seem to be going anywhere."
If it weren't for Troy Peters' conducting, I wouldn't have known that the Youth Orchestras of San Antonio's (YOSA) Philharmonic were nearly finished with the piece. Top to bottom, the arrangement had been soft, meandering "" calming, maybe, but unexciting. The strings were barely at a whimper, and they were mellowing still, petering out, until there was no more noise leaving the stage. Only the muffled sounds of shuffling audience members remained.
Peters remained hunched over the violists. He stood still for a few seconds, hands closed, frowning slightly. Nobody moved. We were quiet, our collective gaze fixated on his podium. Abruptly, Peters stormed offstage. And the audience erupted in applause.
YOSA Philharmonic had just finished performing the world premiere of YOSA alumnus Niccolo Athens' "Out of the Forest Primeval" as part of their first Gold Series performance, "Star Wars and Other Epic Adventures." It wasn't until this moment, when the cultivated silence was suddenly shattered, that I understood Athens' point. In his contribution to the event's program notes, he casts his work as a meditation on the aesthetic value of biodiversity and environmental protection.
"This piece abounds in musical metaphors for the natural world," Athens wrote, "including extended stretches of gentle, murmuring undulation and expansive, organically unfolding melodies."
But that's not the whole picture. Athens did use these arrangements of sound to celebrate and represent natural beauty. He also used silence to force us to realize where we were, who we were around and the relations between each of us seated in the Tobin Center that night. That brief moment of quiet contemplation, of suddenly being aware of our presence in the midst of others, did the trick. It was astounding.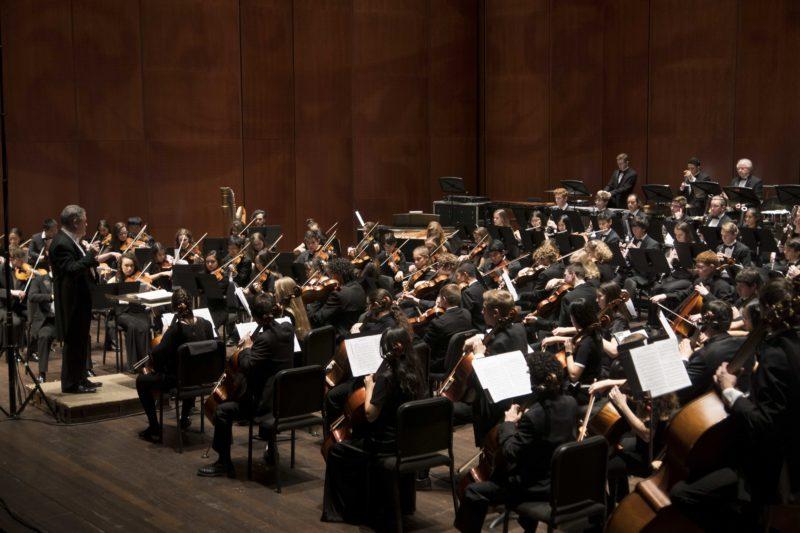 It was astonishing for another reason: I couldn't believe we'd been treated to this reflective exercise in the middle of a concert dedicated to "epic adventures." The preceding performances "" first of Carlos Chà¡vez's "Sinfonà­a India," then of Alexander Borodin's "Polovtsian Dances" "" certainly fit the bill.
Chà¡vez's symphony, which comprises three melodies inspired by the music of native Mexicans in the nation's northern region, felt like an Odyssean journey: Excited, quick themes accompanied by what some might call "˜world music' instrumentation took the audience on a flight through the continent before making way for piccolos to lead us through periods of reflection. One instrument would pick out a melody, then all the strings would join, resounding together in repetition as the brass and percussion sections contributed texture. This method would itself be repeated again, with a new solo instrument and a new tune to exalt. The adventure ended on a hopeful note.
Borodin's work, written for his unfinished opera "Prince Igor," is Russian through and through. Its first movement is swift and whimsical, thanks in large part to the strings' tremolo underneath a soaring flute accompanied by sparkling triangle and tambourine action. Even the comparatively solemn second movement is marked by a sense of intentionality and preparation: a determination unburdened by sadness or trepidation. The clarinet moves us forward while violins hum lowly, then the brass introduces a tone suggesting tension or worry, even as the woodwinds drive forward.
It's a complex segment, one that marches on despite apparent danger. Then, a bombastic beat marches forward into a triumphant conclusion. Whatever it was, it worked out. I'll take what they're having.
That's where I was when Athens premiered his work, when we were asked to settle down and contemplate the rich spirituality latent when we interface with nature. Off-topic, maybe, but it worked in lieu of a more traditional intermission.
Having been stunned by Athens' judicious use of silence and sound, Peters finally led the Philharmonic into the headlining performances. The orchestra played a "Star Wars Suite" that hit every note a fan could ask for. As someone who grew up watching VHS tapes of the original "Star Wars" trilogy, I was impressed by how well the orchestra navigated John Williams' scores. The lineup included the series' main theme followed by the leitmotifs accompanying the characters of Princess Leia, Darth Vader and Master Yoda, then ended with the "Throne Room" music featured in the original film's final sequence and closing credits.
Listening to the full-length version of the main theme was a trip. The film's final cut doesn't include the entire track, so listening to the full composition was equal parts nostalgic and fresh. Hearing it live was even better "" a chill ran down my spine as I heard each of the twinkling stars and whistling asteroids, the snares and brass of the "Imperial March." The tunes are so familiar as to not require recapitulation; suffice it to say that a live performance of even these recognizable works is absolutely the best way to experience the music.
YOSA's first Gold Series performance of this year's season was excellent. The performances were impactful, intimate and innovative. Peters paired a unique premiere of an up-and-coming composer's music with the well-trod works of Williams, and it was a smart decision. As I left the Tobin Center, I couldn't help but wonder: When's the Philharmonic's next concert?